NATHAN Ferrari and Lyndell Marcellin were declared Junior and senior "Boxers of the Year" by the The Saint Lucia Boxing Association (SLBA) at its annual awards ceremony at AubergeSeraphine Hotel last Thursday.
SLBA's Public Relations Officer, Shannon Lebourne, said Ferrari, who won eight medals in 2016, four gold and four silver, was the clear favourite in the junior category.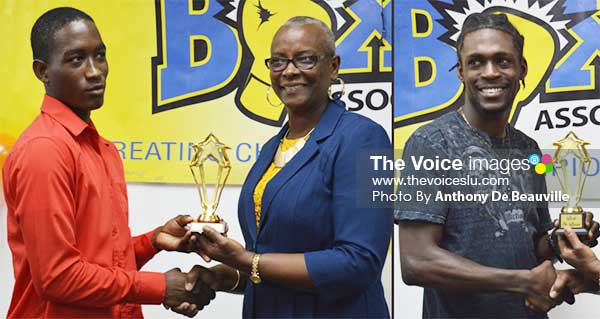 Ferrari won gold medals and Best Junior Boxer Awards at the Guyana School Boys' Invitational Tournament, the Barbados Invitational and the Dominica Showcase. His fourth gold medal came in the Creole Boxing Championships in Cayenne.
At the Caribbean Development Boxing tournament in Barbados, he captured silver, and did likewise at the Martinique Invitational. He also won silver in two separate invitational bouts in Guadeloupe.
Marcellin got the nod in the Senior category ahead of Arthur Langellier. Marcellin won gold medals at the Creole Championship in Cayenne, the Guyana Invitational, the Dominica Invitational, the Brian Lara showcase in Trinidad and Tobago and silver at the Caribbean Development Boxing championship in Barbados. He also participated in two Olympic qualifiers in Argentina and Azerbaijan.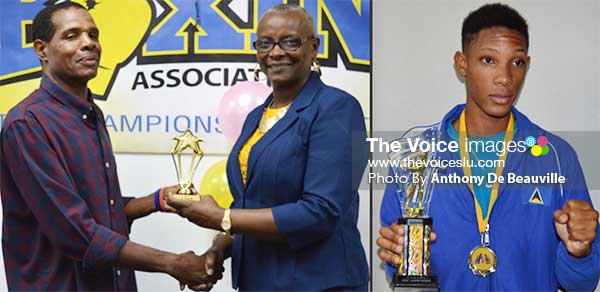 Head coach Conrad Frederick was presented with a token of appreciation for his outstanding contribution and success throughout 2016. Omar Christopher captured the Award for Best Youth Boxer while a combined group 25 male and female students currently on the boxing programme representing Bocage, Entrepot, Leon Hess Comprehensive, Corinth Secondary and the Vigie Boxing Gym were presented with certificates.
Ferrari and Marcellin are looking forward to stiff competition in 2017 as Saint Lucia is expected to host the Organization of Eastern Caribbean States Invitational in April, the 8th Annual Creole Boxing Tournament in July and the 3rd Annual Caribbean Development Boxing Tournament in December.