Minister Claims Effort To Extort Money From Him Via Devious Means.
MINISTER in the Ministry of Finance, Ubaldus Raymond says his trust is in the Almighty God and the court system of the country following allegations of his involvement with a young woman in a matter that has gone viral over social media.
The matter is now in the hands of the police who have since arrested and charged a woman yesterday morning with blackmail. The woman was reportedly released on $10,000 bail, according to unconfirmed reports. However this newspaper was able to confirm that she appeared in court and a bail offer was made.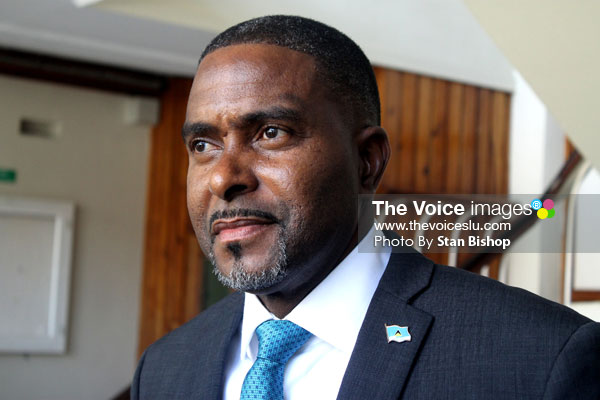 The woman said to be 18 years old was has been in police custody for much of yesterday, awaiting her fate after comments surfaced on social media purportedly in conversation with the Minister in which she asked him for a sum of money. According to the comments Raymond refused her demands resulting her threatening to release photos to the opposition.
Photos, allegedly of the Minister in a state of undress, have been circulating in the media, all of yesterday..
It is unclear where the photos originated from and who released them despite several remarks made on social media as to its origins and the persons supposedly behind their release.
The Minister, just before noon yesterday, made a statement from his attorney's office in Castries, namely Alberton Richelieu: Here is his statement in its entirety:
"Over the last few weeks I have been exposed yet again to one of the ugly truths about life in the public eye. People will constantly try to besmirch your character and use underhanded tactics to undermine your credibility.
"Since I entered politics I have maintained that my integrity and my credibility are of utmost importance. My record speaks for itself.
"Over the last few weeks there have been attempts to threaten me. There have been attempts to extort monies from me through devious means.
"I have provided all the details and evidence in this matter to the police who are carrying out their investigations.
"I want to thank the detectives of the Royal Saint Lucia Police Force for apprehending a suspect in this matter who is now in the hands of the court system.
"The situation I now find myself is not a unique one in the world we live in today. I know that other persons have gone through similar circumstances and they have probably not been able to fight back. They have been too scared, they have felt ashamed or they did not want to open up themselves to the kind of attention that shames victims of such crimes.
"I want to state clearly that no amount of threats will cause me turn away from my values as a human being and as a family man. I will not give in to political operatives who will use the most disgusting tactics in order to malign my name or to scare me into submission. I will trust in the Court system and in the Almighty God.
"Until such time as this matter is resolved through our justice system I will make no further statements on the case.
"I will say finally that I will not be bullied. I am not afraid."
THE VOICE has reliably been informed of the involvement of another lawyer, someone close to the arrested woman in the matter.