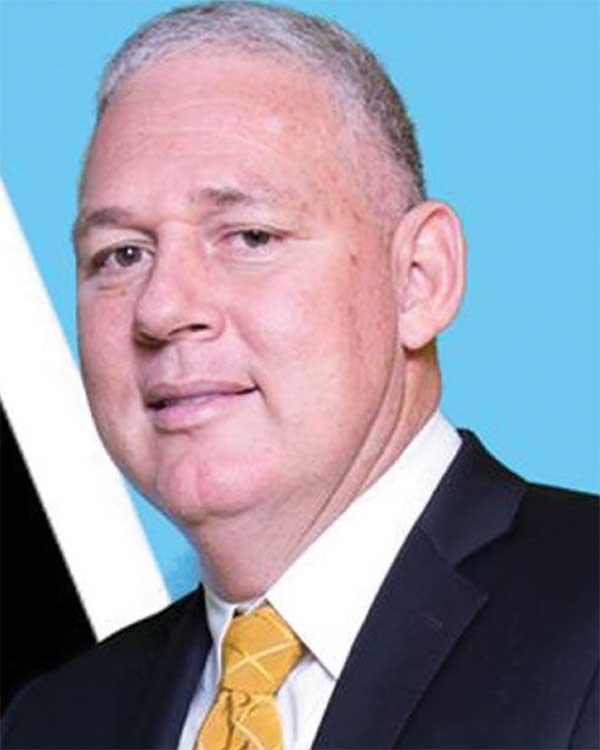 PRIME Minister Allen Chastanet has announced a 2.5 per cent reduction in the rate of the Value Added Tax (VAT) saying it will result in an estimated EC$52.5 million being pumped back into the hands of St. Lucians annually.
The VAT reduction which takes the rate from 15 to 12.5 per cent was one of five components of the "Five to Stay Alive" programme announced earlier this year as the now ruling United Workers Party (UWP) campaigned for the June 6 general elections.
The UWP had promised the electorate "a restructured tax regime that will be less burdensome but without compromising the revenue base".
In his radio and television broadcast on Monday night, Chastanet said that the VAT affected the entire island on a daily basis destroying businesses and drained consumers to the core even as he indicated that the decision to reduce the tax was not done lightly.
"We took time to review the current VAT system. We commissioned a study by Ernst and Young and they undertook a comprehensive review of the VAT. Combined with the CDB (Caribbean Development Bank) report and our discussions with various financial agencies such as the ECCB (Eastern Caribbean Central Bank) and IMF (International Monetary Fund) we received several recommendations on reforming the VAT system," the Prime Minister said.
"My brothers and sisters, they said it could not be done. St Lucia, we have done it and we will do more.
"We will continue to review the current tax regime and guarantee you that the overall objective of the government's tax policy is to grow the economy.
"The goal is to reduce the tax burden on the population, while making the tax system more business and investment friendly and most critically ensuring fiscal sustainability," he told the nation.
Chastanet said that the Airport Redevelopment Charge which he is seeking to reintroduce as of April 2017, is not new insisting that the tax would not affect the island's tourism sector.
"In fact if we had kept this charge we would have collected in excess of EC$200 million which is half of the monies needed to build the new airport," he noted.
Chastanet said during the review it was discovered that most of the other Caribbean countries charge about US$100, saying that in essence St Lucia has been foregoing US$75 per passenger or EC$100 million in revenue annually.
"Reintroducing this charge will also be less onerous on the citizens of this country and will significantly contribute to decreasing our national debt as a percentage of the monies raised will be allocated to a sinking fund. This is additional revenue which will be set aside so St Lucia can begin to take care of itself."
Chastanet said that on June 6, St. Lucians challenged his UWP to lead and to govern, adding that while they inherited a broken and frail economy, and are governing in a time of great economic and fiscal hardship, "we shall live up to those expectations". He said despite the present economic climate, government's main concern is bringing some measure of immediate relief to the struggling people of this country; to get business flowing once again.
"This is one of the reasons we have pushed ahead with implementing our "Five to Stay Alive" proposal despite those who said it could not be done," he said, noting that his administration had already decreased the licence fees for vehicles.
"I know that motorists throughout the island took a collective sigh of relief and are appreciative that we were able to lessen this burden on their backs," he said in the broadcast, adding that another component of "Five to Stay Alive" achieved has been the increase in the school bus subsidy and expanding the school feeding programme.
"As we stated clearly in our manifesto taking care of our nation's children is at the forefront of our priorities. We want to ensure that our children get to school safely and that they are well fed and ready to learn without having to be concerned about where their next meal is coming from. Children should not have to be burdened with these thoughts."
Prime Minister Chastanet said he was also pleased to announce that the three-year Residential Tax Amnesty, another of the "Five to Stay Alive" initiative goes into effect from January 1 next year.
"We know that almost everyone's dream is to own a piece of land and a home in their country and government must assist where we can to make this dream a reality. We are acutely aware that people are finding it more difficult to pay their mortgages and this three-year grace period will go a long way in helping home owners meet their obligations."
He said in addition to the waiver, the government is encouraging people to take advantage of the current tax amnesty offered by the Inland Revenue Department.
Chastanet said another promise of economic initiative is a targeted amnesty on healthcare services, noting that too many people are dying because of high medical costs.
"We are mindful of this and the Ministry of Finance is working with the Ministry of Health on the proposed targeted amnesty on healthcare which we expect to begin on 1st December 2016.
"This would mean that pensioners who earn less than EC$1000 monthly would have their healthcare bills waived. This would also apply to unemployed persons and individuals on the poverty list," Chastanet said, adding that he was especially happy that this included a waiver for dialysis patients who are without insurance.
"St Lucia, we have extensive plans for the healthcare sector which will unfold in the coming months. They said it could not be done, yet we have delivered despite the challenges we face," he said, assuring St.Lucia that this government is working; that our meetings with investors overseas and at home are not in vain.
"To have come into office when we did and put together a supplementary budget based on what we were left with would have been a waste of time and resources.
"We did not come into government to waste time. We are instead proposing a four-year strategic development plan for this country. A road map to keep us on course; to help guide us to building a prosperous St Lucia for all."
He said the government's four year plan will be all encompassing and focus on areas of healthcare reform, education, agriculture, security, public sector reform, the financial services sector and infrastructural development among others.
Chastanet promised that the details of this ground-breaking approach will be discussed with social and economic partners over the next three to four months.
"We cannot continue to throw the same solutions at the same problems and expect to get a different outcome. It is vital that we adopt a different approach, one that will yield a more progressive result.
"It is evident that some of what could not have been achieved in four and a half years by the previous administration has been made possible by my government in five months. This shows that we are a government who is ready to put St. Lucia back on the path of economic and fiscal growth," Chastanet said, urging St. Lucians to have hope.
"I am asking you to believe that things can change and get better if we all come together to rebuild this country.
"My government will continue to take pride in being a government of accountability, transparency and results focused. Make no mistake the ultimate goal of this government is to ensure that Saint Lucia rises once again.
"So I urge you my fellow Saint Lucians, let us all be part of the solution and not the problem. I believe that what unites all of us should be our commitment to St. Lucia," Chastanet added.