Musician Garner Raymond's Long Creative Walk.
SOFT-SPOKEN musician/poet Garner Raymond is among the growing flock of Saint Lucian artistes on the path to getting their voices heard on the global stage. With the likes of Patsy Cadet, Ronald "Boo" Hinkson, Taj Weekes and Teddyson John already opening musical doors internationally, Raymond believes his solitary journey in the music world is about to pay off huge dividends.
The Pavee Road, Castries resident remembers growing up in San Defeiere, Sarrot when he and his friends resorted to making music extemporaneously by banging on tins and cans on evenings when there was nothing left to do after riding their bicycles.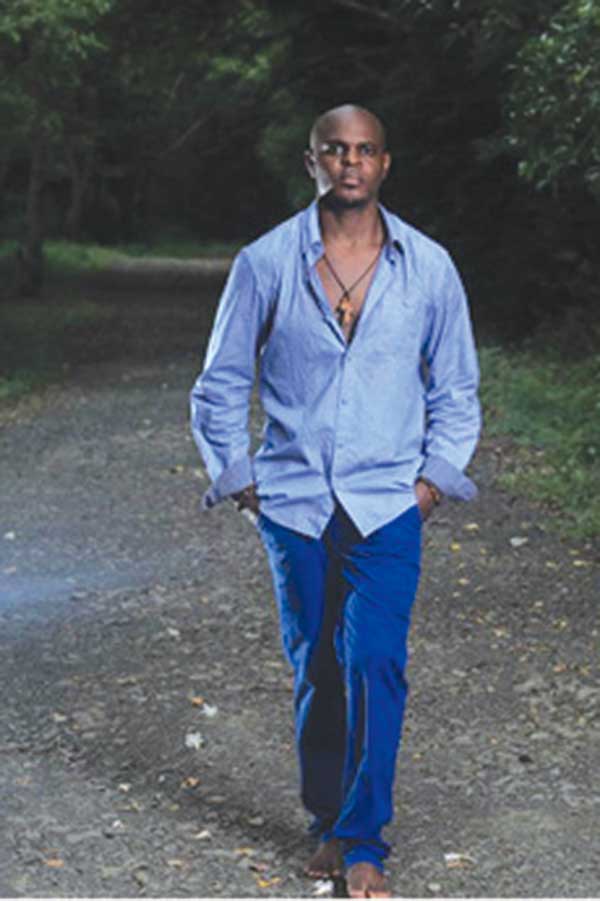 He admits that the inspiration came after they would watch and listen to some Rastafarians from the community beat their drums and chant regularly. Raymond and his friends took those experiences so seriously that they soon began writing down rhythms which they would later replicate during their own informal sessions and ad lib lyrics to.
Garner later attended Vide Boutielle Secondary School, doing a few terms in music there because while there was a music room and teacher, "it was just not a big thing on the syllabus". Nevertheless, the youngster was inspired by gospel music (he named Jim Reeves as one of his favourites) and reggae music (Gregory Isaacs, Glen Washington and Bob Marley and the Wailers were the popular ones back then, he said). As he entered adulthood, he was inspired by the music of Shabba Ranks and BujuBanton.
Calypso music, he said, was also a genre that appealed to him and he made sure that he listened to and took notes of how the craft of calypso was used to project a powerful social message, especially during the calypso season.
In 2007, Raymond co-wrote his first calypso with fellow Bank of Saint Lucia colleague Omari Frederick. The song was the bank's entry for the Inter-Commercial House Calypso Competition and sung by Miguel Fevriere. He wrote his second song soon after and has never stopped writing since.
Raymond's songwriting skills have their genesis in his poetic mind which he began developing after taking up poetry in 2004. Three years later, at the invitation of a friend, he attended a poetry session hosted by the St. Lucia Writers' Forum, a small collective of budding writers who still meet on Tuesday evenings at the Central Library. His interest in the art form was piqued immediately, he said.
"The first thing that I picked up there were the critiquing and writing techniques: how to look at your work in a semi-detached way so that you get a better appreciation for it based on other people analyzing it," Raymond tells me.
Raymond's growth as a poet was fostered through the intervention of renowned poet/playwright, KendelHippolyte, who often conducted writing workshops at the Central Library and his home. With the clearer understanding of what poetry entails in his hand, he began performing his pieces in public, including at the NCF Telethon and activities hosted by the Writers' Forum. He even won a poetry competition hosted by the Central Library.
In 2008, Raymond tested his musical side when he represented Bank of Saint Lucia at the Inter-Commercial House Calypso Competition and did so again on four other occasions. He placed third on three occasions, fourth on another and failed to make the top four once.
That same year, Raymond approached musician extraordinaire, Francis "Leebo" de Lima, of Heights Music, to assist him with recording a song. While in the studio, Leebo gave Raymond close to a dozen instrumental tracks to play around with.
In 2014, Raymond wrote and recorded "Journey of One", which was produced by Leebo using one of the instrumental tracks Leebo gave him years earlier. He released the song a year later and began filming the music video for the song almost immediately.
The song is a smooth, free-flowing ballad that not only showcases Raymond's craftsmanship as an artist but also reminds us that despite taking separate paths in life, we all are on the same journey. It also speaks about the solitary journey one is often forced to take in order to find one's true self:
"I was out in the world trying to find me
Between a rock and a hard place I found
The journey of one could be lonely
But reveals what lies deeper inside…"
Following a lengthy delay due to logistical issues, the music video was finally completed and officially released at Headphunk last month where Raymond also performed other unrecorded songs and poems. The response thus far for the song, he said, has been phenomenal.
Scenes in the music video were shot along the Millennium Highway and at Faux-a-Chaud, Casen Bas, Tapion and Bridge Street, the latter location just a stone's throw from where he works as a bank employee.
Other songs recorded by Raymond include "You Need A Man", "Amnesia", "Prophecy", "Will Power", "Let It Out", "Handle It" and "Where Are You Now". He is currently working on recording other material, including "Call Me Judas". He is also planning to release his first album next year. It's a tough journey financing his dream, he said, but it's a road he needs to walk.
"Music is an investment and you must be able to balance whatever you put into it with other priorities. So "I've decided to set aside something for my music and my promotion. My music is part of who I am and I need to make that commitment," Raymond explained.
In making music, Raymond said, he not only gets to fulfill a lifelong dream of making his creative expression felt and heard. As he tells it, he wants to tell each chapter of his creative experience in such a meticulous and unambiguous way that it stands the test of time.
"I try to make music that people can remember years down the line, music that is not age specific, but relevant throughout time," Raymond said.
You can view "Journey of One" on YouTube and feel free to offer some feedback.