After-Effects Still Hurting Farmers.
NEARLY two months after Tropical Storm Matthew swept across Saint Lucia, its after-effects are still being felt in the agricultural sector.
Massy Stores (St. Lucia)'s Perishables Manager, Dunstan Demille, told The VOICE this week that the supermarket chain is currently experiencing a vast reduction in its usual supply of key produce from local farmers whose livelihoods stood in T.S. Matthew's destructive path.
"After Hurricane Matthew, we found that a lot of our production in Saint Lucia – referred to as 'open field production' – which is very vulnerable to the natural elements, was affected. Many farmers lost either some or all their crops while others lost equipment. Many of them were even unable to gain access to their lands due to land slippage," Demille explained.
Demille said over 1,000 farmers sell their produce to Massy Stores, supplying items such as bananas, plantains, eggs, cocoa sticks, vegetables, meats, among other things.
He said that while Massy Stores' policy is to 'buy local and subsidize with imports', there are certain items such as cucumbers, lettuce, and others, that are not imported, even when local supply is very low.
Tropical Storm Matthew passed over Saint Lucia on September 28, battering parts of the island and damaging an estimated 85% of the agricultural sector. Within days, Prime Minister Allen Chastanet gave government's assurance to farmers that everything will be done to reinvest in the sector.
Especially along the island's east coast, banana plantations were virtually wiped out in some cases. Fallen trees and land slippage were common scenes as many farmers lamented their losses. Massy Stores, Demille said, is already feeling the brunt of the fallout.
"It has definitely had an effect on us," Demille said. "If you go to our stores, it's actually reflected there because you don't see some of the leafy vegetables and other items people would normally get there. This is because the farmers are now finding it very difficult to produce these items."
Despite the shortfall in the supply of local produce to the supermarket chain, Demille said some farmers' root and tuber crops were spared from T.S. Matthew's wrath. However, supply is still at a minimum.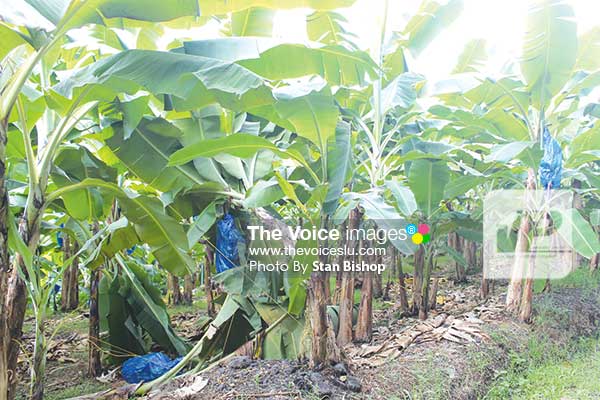 Demille cited green banana and plantain supplies which were growing consistently in supply before the storm. In the case of plantains, production levels this year prior to the storm had not been as consistently high ever since Tropical Storm Dean in 2007, he said. That situation has changed, with some stores not even having plantains in supply.
Since 2010, the company has given nearly 350 loans to farmers through its Farmers Loan Programme. Demille said the initiative came into effect following a lengthy drought period that year that adversely affected the agricultural sector. He said that farmers who suffered massive losses due to the recent storm are being given additional assistance to enable them to recover.
"Some of these farmers have longstanding relationships with us, in some cases as long as 30 years," Demille said. "We have some really loyal farmers with us and we never hesitate to get them back into production so our customers can be supplied with produce."
Demille said that since the supply of the abovementioned produce is limited currently, prices will go up significantly as per the laws of supply and demand. As such, he said the company is working assiduously to rectify the situation in the quickest possible time.
"We're asking our customers to be patient with us because we're trying everything we can. At the end of the day, we recognize that we all have to eat to live. So we're doing our best to give the support our farmers need so that we can get those produce to our customers," Demille explained.