THE Ministry of Health is working to cut the waiting time of people who turn up at Victoria Hospital for medical attention.
The Ministry said that for a very long time, the complaints about the excessive waiting time at Victoria Hospital has been a matter of concern. Officials of the Ministry of Health and the Management of Victoria Hospital have sought to allay the public's fears about such delays and Health Minister Senator Mary Isaac has now given the assurance that her Ministry has been working feverishly to address this situation.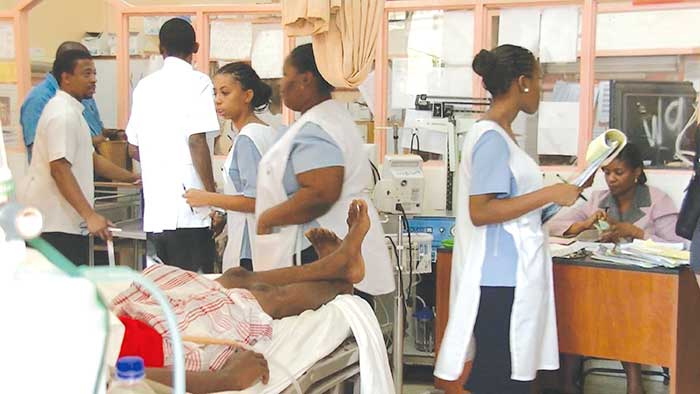 She said: "People really need to see things changing. They want to see less time being spent at the emergency room at Victoria Hospital because sometimes you go there and you spend too much time waiting to see a doctor. So, these are some of the issues we are working on. We are hoping that with the move to the new hospital, we are going to see a lot of improvement in our health care system."
The Minister says hopefully the transition to the Owen King EU Hospital will assist in relieving the pressure on Victoria Hospital whose staff are presently undergoing intensive training.
She said: " Of course moving to a new hospital does not just automatically take away the problems. So, the workers are getting training as we speak. They are familiarising themselves with the environment. We are hoping there is going to be a new work ethic and we are going to provide the necessary training to ensure that happens because for too long we've had nurses working under terrible, horrible conditions. And sometimes as a result of that people can become lackadaisical. So, with the new environment, also will come training as well as the expectation that there will be better delivery of health care and better standard of health care."
How soon will the new OKEU Hospital be ready to accommodate clients? The question was posed to the Minister.
Ms. Isaac said: "We've already started the move. It's going to be done on a gradual basis. Some administrative activities are already taking place at the new hospital. We are looking at moving different segments that can be moved. We have also ordered the dialysis machines and we're expecting that as soon as they get on island they will be put in the new hospital."
The new Owen King EU Hospital is a gift to St. Lucia by the European Union valued at ($167m) one hundred and sixty seven million EC dollars