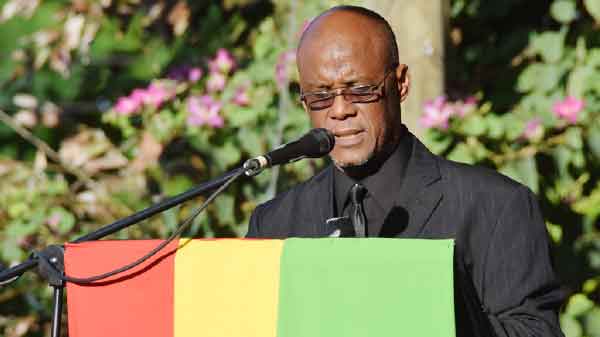 CASTRIES Mayor Peterson Francis says he welcomes the staging here of activities promoting national discussion on CARICOM's call on Britain and Europe for Reparations for Slavery and Native Genocide in Saint Lucia and the rest of the Caribbean.
And as far as he is concerned, he hopes more activities will be continuously held across the island to help people better understand what the call for reparations is about and why it has the support of Saint Lucia and other CARICOM Governments.
Francis made the comment Monday following his participation in a Reparations Rally in Castries organized by the National Reparations Committee (NRC).
The Mayor had made similar remarks while welcoming a delegation from the CARICOM Secretariat to the island's capital city, Castries and to Derek Walcott Square, (which he described as) "a square that has its own unique history" and where a CARICOM Reparations and Kwéyòl Youth Rally was held on October 29.
The delegation from the CARICOM Secretariat was led by Dr Hilary Browne, the Programme Manager for Culture and Community Relations at the CARICOM Secretariat.
The Mayor acknowledged "the role of the Government of Saint Lucia in making this and other Reparations activities possible".
But he offered "special support for the decision by the Ministry of Education to facilitate the Reparations lectures at the island's secondary schools."
Mayor Francis was speaking of a series of nine school and community lectures held in the week leading to the event, which involved members of the NRC delivering lectures, talks and participating in 'Rap Sessions' with youth and students.
The series is commissioned by the Education Ministry and lecture sessions were held at schools in Castries, Soufriere and Vieux Fort.
The Castries Mayor says the rally and other activities planned by the NRC should be supported, because "this reparations issue is one we have a lot to learn about and there are more questions than answers."
He said Monday, "I hope the activities will continue island-wide and among more than just youth and students in Castries, because there are still many questions people want answered."
"That is why, therefore, it is important to have activities like this all-year-round, to provide answers to everybody's questions."
He said the day's two-hour programme on The Square was "being seen by more than the people gathered at the event", as the programme was being broadcast live on TV and radio and streamed by Internet.
"This means it is going to more people… not only here, but also abroad."
Now, he adds, "The recorded rally can also be shared far and wide through broadcasts on radio and TV here and everywhere, as well as being placed on websites and Facebook pages."
Mayor Francis said he and the Castries City Council (CCC) were "glad to cooperate with the NRC to facilitate this first such rally on Derek Walcott Square."