By Gandolph St. Clair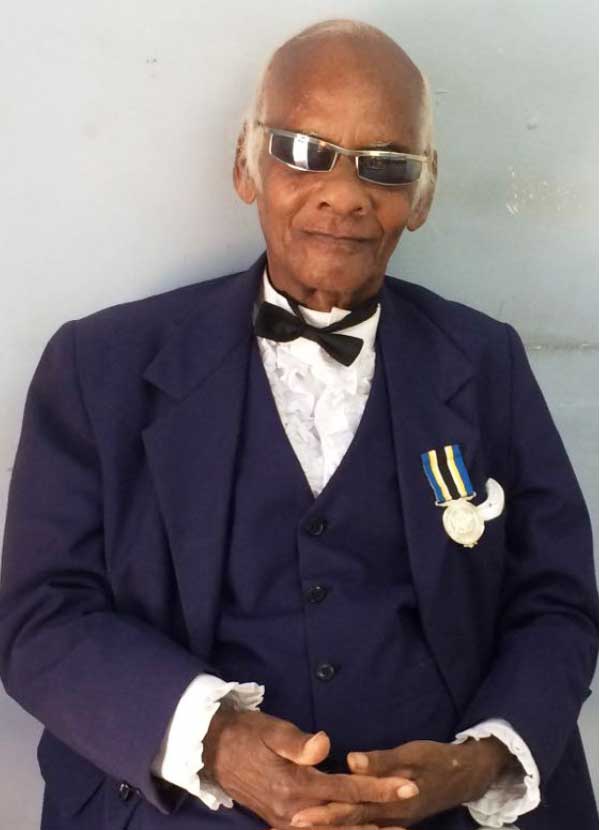 I MUST have been seven years old, when I first encountered Teacher Anderson Desir at the St. Aloysius RC Boys' Primary School. I had the good fortune of being the Schoolmaster's nephew, Matthew George St. Clair, who had replaced Anthony Saltibus. That building had housed the victims of the 1948 fire and everybody who attended that school, whether in Infant or Primary, had the spiritual residual of the fire in their DNA. The school had been closed for eight days to accommodate the victims of the fire. I was very lucky indeed to have Anderson Desir among the first teachers to have made an indelible mark on my future life. He was different. Being different in our society means that one is naked to the whims and winds of the vortical victimization, discrimination and malaise of hypocrisy.
Those gentlemen, a group of teachers, attired in grey pants, white long sleeved shirts with blue tie, were impeccable and articulate, in diction and vocabulary when speaking English. They were individually talented and skilled, were adept and instrumental in moulding the future generations of St. Lucia. I dare say up to his last days, Anderson was devoted, committed, a pillar of fortitude and resilience, caring and giving. He was one of the few teachers not to resort to the irascible corporal punishment. His voice was authoritative, sonorous, melodious, articulate and passionate in his delivery. One always sensed that he was empathetic to the plight of the poorer students under his charge, as one noticed that he was always sharing his time with them, as they were the ones who were always late and brought nothing else but their home problems to the classroom.
He was my class teacher and what I learnt gave me a firm foundation and pointed me to a life of the Arts. He taught us painting, where we learnt how to use shape, texture, perspective and colour; he taught us poetry and use of the English Language, grammar, parsing, syntax. He was a sports leader in his own right as he took us to the playing field to show us how to play cricket, a game at which he excelled with his style at batting and bowling. Batted left hand, bowled right. I remember particularly accompanying him with our unbeatable cricket team to play a game against the Dominic Savio Primary of Soufriere in which opener Rupert Polius, blasted an unbeaten hundred to take us past what seemed an insurmountable total. Naturally Anderson was in a state of euphoria for a long time. He loved table tennis. Needless to say, he was part of a team of very dedicated teachers, who were selfless in what they gave of their time, with little compensation from a very uncaring, discriminating society. His singular solemn vocation was teaching.
I said earlier that he was different and I said so because in the society in which he was so distinctive and excellent, he was of East Indian descent and that carried a stigma in the time of our social development and class mobility. His slim physical frame, height which was average at five nine, curly hair, always kempt, clean shaven and immaculately garbed with elegance in his choice of stylish clothing made him distinguished, a cut above the rest, including the best of the day.
Among his contemporaries were teachers, male and female, who made substantive contributions to the development and moulding of the next generation of St. Lucians. I mention as many as my memory will allow me. Miss Mary Anna, Miss Beryl, Sonia George, Alicia John, Mrs. Nathaniel, Teacher Joe, Allan Weekes, Girard, Gabriel, Chalon, Glasgow, Alvin Hippolyte, Gregory Burton, Kenneth Combie; Teacher Cyril, Jones Jn Baptiste, Albert Nathaniel, Mc Arthur Fowell, Earl John. Anderson Desir came out of the tradition that gave us Sir Leton Thomas and Jones Mondesir, pioneers in our educational development. He came out of a generation that was inspired, motivated, knowledgeable and generous, persons who were determined to make a difference.
Anderson Desir had a close relationship with my uncle and it was one of mutual admiration and respect. In 1960, Matthew was transferred to Choiseul and this severed the relationship until they were again teaching together in 1962 at the newly opened Ti Rocher Combined in the quarter of Castries South, where I joined them doing my first stint of adult education, under the glaze of the Coleman lamp. Later he joined my uncle at the Bexon Combined School, later named St. Thomas Aquinas where both rode into the sunset of retirement.
During the 80's, Anderson was my neighbour in Vieux Fort, since he lived in the Bacadere not too far from my mother's residence. We met frequently and he was always curious about my progress and sincerely interested in my welfare. When he won the second place in the BBC'S Commonwealth Caribbean Poetry Competition, I was exceedingly excited given the undignified remarks about his poetic prowess among his peers. He was a romantic poet at heart, given his love for the sonnet and ode. I joined his circle of accolade, when I placed second in the same BBC competition but for the playwrighting in 1982.
Since then we became literary affiliates and this relationship extended to my thirteen years at the Cultural Development Foundation, where we met constantly in the hope of publishing, a collection of Anderson Desir's poetry and prose. He had an impeccable, euphonious style and he was a master poet but he was modest, humble and shy, not given to the frontline of readings and posturing in the lime light. Through his stylish penmanship, my own assessment of his craft is that he was a natural technician, vocabulary, tone, assonance, scansion, metre, alliteration, texture, rhyme and rhythm. His "Back to Calvary" is a testimony to his poetic potential.
He contributed regularly to The VOICE's Poet's Corner and visited regularly to chat the ladies, as he had a knack for poetic sweet talk notwithstanding gifts, even flowers. I was horrified that on one such occasion wading through the CDC, on his way to The VOICE, he was robbed of his pension, bruised and shaken, such was the thanks flung in the face of our beloved teacher. I know that he received a Piton Medal for his contribution to the literary scene in St. Lucia. I will always cherish him, his array of hats, his colourful shirts and his bag of his writings which he would often share privately with willing listeners, as he sat at the Derek Walcott basking with the elation of a sparrow.
Often have I lamented over the fact, our workers in the sports and cultural fields that those voices are shunned and stifled, ignored chronically, casually. Those men and women, who have dedicated their lives to, in effect manifesting themselves as our heroes have gone undocumented, battered by lies, malicious banter, simply because we are myopic and unappreciative of the seriousness of this task because we have allowed their zealous creativity to be corrupted by ignorance, arrogance, bigotry, nonchalance, disrespect, through despotic depravity and nepotism. The Boards of cultural and media institutions which exist presently need to put their mandates under the microscope because they are failing and falling short of the desired national goals either by design through apathy, mediocrity or spurious indifference.
It is my hope that Anderson's family will allow us, the delectable pleasure of sharing in his lifetime's work by indulging The VOICE to publish the poems in their archives. The other written manuscripts should be made available to allow a team of editors to peruse the magnificent collection, which he left behind. I had the distinct pleasure of having one such collection in hand but he chose not to leave his precious commodity in my care; while he loved to share, he would not commit to that ultimate step of taking the impeccable work to the literary market.
I now end by reading a poem by Anderson Desir, published in Roseau Valley in 2003, which was dedicated to George Odlum:-
I HAVE FLUNG FIRE
I have flung fire in the face of the moon
Bewitching it with mists of flame,
I have listened to the orchestration of the sea –
waves playing violins to the pebbles of the shore
drawing long bogs of shivering water;
I have seen the moon throw a shawl
Over the cool thoughts of the sand, wrapping them close with clouds;
All these things I had seen, to all these things had I listened
In all these things I had taken part, but with you I have been all these things.