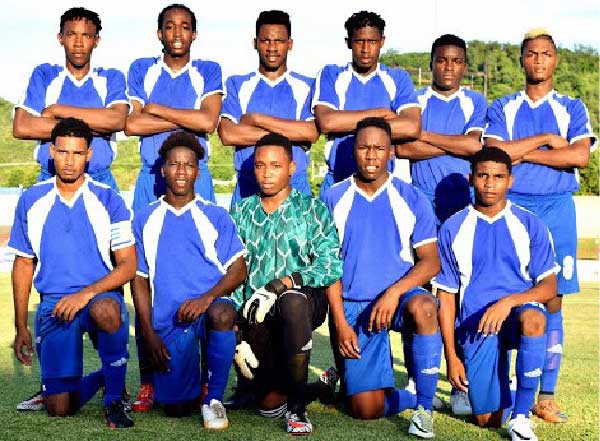 SAINT LUCIA National Under-20 men's team kicked preparations into high gear ahead of the final round of the Caribbean Football Union (CFU) qualifiers with a comfortable 4-0 win over La Clery in a warm-up match at the Daren Sammy Cricket Ground on Saturday in front of an appreciative crowd.
Jamie Prospere opened the scoring for the National Under-20s after La Clery's central defender was injured and spent over eight minutes off the field before being later substituted. The national Under-20s took full advantage of the situation when Melvin Doxilly made it 2-0 hitting one past the La Clery goalkeeper Devon St. Prix to leave the score line 2-0 at the halftime whistle.
On the resumption, more insult to injury was added when senior international player Pernal Williams was shown a red card. At the time, La Clery was on the attack and looking dangerous just outside the box. The lead official pulled play back to the spot where a previous foul was committed. Pernal appeared to ask why the referee did not play the advantage and was swiftly shown the dreaded red card and returned to the dressing room to the displeasure of the many fans.
The National Under -20s seized every opportunity and in the process scored two more goals from the boots of Noah Nicholas to make it 4-0.
Technical Director of the SLFA, Cess Podd, spoke to The VOICE following the encounter.
"This encounter was important for the coaching staff; we had one last look at the players before the team departs for Curacao on Wednesday, October 19. We looked at the players in a game situation, what they had to offer and also at the captain RyiMaryat, who just returned from Cave Hill Campus (Barbados) and Solomon Davies from the United Kingdom."
He continued: "We won 4-0, but it was a learning process for the coaches. We looked at our finishing, players in different positions to see if we have to make changes, and were limited in how to deal with that aspect on the square. So it was a learning process. One of the things we drill into the players is that they have to be positive. I don't think we played well enough against La Clery. We are trying to get that winning mentality. We just want to be a good team and judging from that encounter, we still have some way to go in hitting full throttle."
While in Curacao, Saint Lucia will play the Group 3 winner, Haiti, at 5:00 p.m. this Saturday. Saint Lucia's second encounter will be against the winner of Group 2, Trinidad and Tobago, on Monday, October 24 at 5:00 p.m. while their final match will be against the 3rd best runner-up, Cuba, on Wednesday, October 26 at 5:00 p.m.
SLFA President Lyndon Cooper said: "I'm indeed very happy and exceptionally proud of the players, the coaching staff and the management team for the tremendous work they have been doing with that team. The national male Under-20s represent a brand that the SLFA will manage very carefully. We believe that is the brand that will position Saint Lucian football on the international stage and to our rightful place."