Fund-raiser at NCC This Saturday.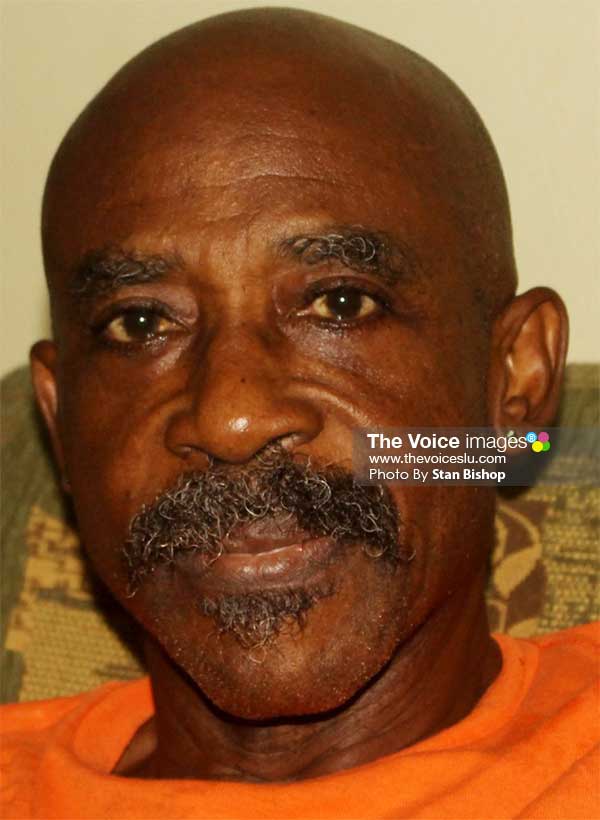 EVER since making his battle with cancer public last August, De-Soca-Lypso Revue's tent leader, Gordon Gene Leon, has been described as a pillar of strength by many friends and supporters. His full story, however, speaks of an inherent courage and determination to face what to many might seem as insurmountable odds.
Born and raised in Marchand, Castries, Leon, like many boys at the time, was influenced by Diamond Steel Orchestra which practised near his home, and Mindoo Phillip Park, where he and friends would often play football. He said those were the only fun outlets available for boys his age at the time.
He attended the Gordon & Walcott Memorial Methodist School but spent most of his school life in Trinidad where he lived with his father for some time. Back home in Saint Lucia, Leon spent most of his days being supervised by his grandmother because his mother worked never-ending shifts at her job.
He eventually joined Diamond Steel Orchestra after hanging around the pan yard for some time and showing increasing interest. He started off on tenor pan and the band members were impressed that the youngster was able to play the songs in one go. But, as Leon tells it, having listened and watched the band rehearse the songs repeatedly, he knew just what to do if given the chance to play.
"Throughout the times I watched and saw them play, I was beginning to play music by ear," the 59-year-old musician, affectionately known as "Chacom", told The VOICE. "So I stayed with the band for a few years competing at Panorama and performing at the hotels. In fact, I caught onto music that easily that I had close to 30 songs in my repertoire which I could have recalled from memory."
After getting a few invaluable tips from master arranger Gregory Piper, who at the time played with the Royal St. Lucia Police Band, Leon decided to try his luck by becoming a member of the police band. Based on the little knowledge he gained from Diamond Steel Orchestra, Leon was drafted as an apprentice into the police band in January 1975 after hanging around the band for about two weeks.
At first, Leon had issues with the dilapidated state of the instruments he had to choose from. Even worse, he was assigned to play the tuba but was determined to prove that he could overcome any challenge. Within a short space of time, Leon not only impressed the other band members – but himself also. He even began learning to read sheet music.
"That was when the eagerness to want to play music overcame me even more. I was learning the rudiments of music and it was a thrill. In fact, whenever I picked up my instrument on mornings, it was difficult for me to put it down," Leon explained.
Three months after joining the band, Leon was promoted to the rank of Constable. He played with the police band for the next 37 years, scaling up the ranks and eventually retiring from the police force in 2012 at the rank of Acting Superintendent of Police.
During many of those years, he continued to play with Diamond Steel Orchestra. He even played with Tru Tones combo, of which world-renowned guitarist Ronald "Boo" Hinkson was a member and toured with the group to St. Croix and New York.
Around 2011, Leon formed De Soca-Lypso Revue after his role as musical director with Spectrum International Calypso Tent came to an end. He said he started the new tent because he wanted to make a more meaningful contribution to aspiring artistes – but on his terms, which included a strict adherence to discipline and members developing their talents through songwriting workshops.
Within two years, the tent was positioning itself as a powerful musical force, fielding finalists in the national calypso and soca finals. Nerdy, Alley Cat, Blaze, former Road March winner Soca Psycho, Patience and this year's Party Soca Monarch, Islah Man, are just some of the tent's illustrious artistes.
Five years ago, the tent began hosting its annual creole-themed show, "AnnouManjé, Dansé, ChantéenKwéyòl", as a way of both celebrating the island's cultural heritage and giving musicians from within and outside the tent the platform for competing in the creole song contest. That event now forms part of the calendar of activities for Creole Heritage Month.
When Leon was diagnosed with Stage IV stomach cancer in June — during the height of the carnival season — he was already in the midst of planning the fifth season of AnnouManjé, Dansé, ChantéenKwéyòl, which has since been placed in the hands of a committee. The show will be held this Saturday evening at the National Cultural Centre and all proceeds go towards offsetting Leon's medical expenses.
However, Leon is seeking the public's support in overcoming his battle with cancer which has now forced him to adopt an all-vegan diet. He said the initial cost for the treatment he is likely to undergo is between $60,000 and $65,000. He believes he has a fighting chance of recovering from his predicament.
"In the past, hearing about people having cancer almost seemed like a death sentence," Leon said. "But I know with all my heart that I can beat this. So I'm not going to sit and wallow because I have cancer and wait for death. I am going to do whatever it takes to get it out of my system, including following a strict diet and exercising."
Leon expressed gratitude to all those who have since come forward to show support for him, including visiting him and calling to encourage him to remain strong. He also had special words for fellow musician, Francis "Leebo" de Lima, who has the same diagnosis and the two have forged a greater friendship. He also thanked his girlfriend, Sharon, his six children, his tent members and the committee now planning Saturday's event.
Donations towards Leon's medical fund can be made to 1st National Bank account # 8419552. You can also contact Leon at 484 1254.