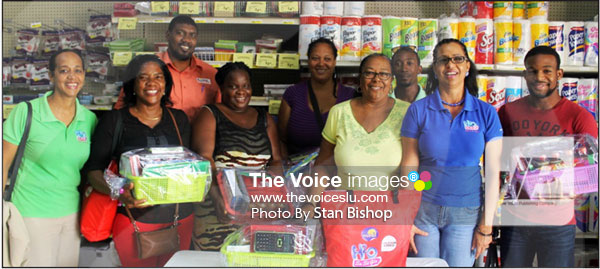 IT was all smiles for five of the six winners who showed up for the Winfresh back-to-school promotion presentation ceremony held at Massy Supermarket at the Castries Waterfront on Tuesday.
Each of the winners received prize hampers that included cases of bottled water, fruit juices and school supplies such as scientific calculators, exercise books, drawing books, crayons, staple machines, pens, pencils and markers.
One lucky winner also walked away with an Amazon Fire tablet.
Sales and Customer Care Manager (Sunfresh Ltd.), Renée de Myers, said the beverage company, which produces H2O Sa Sé Glo bottled water and Sunfresh juices, started the promotion in August, offering specials on its two varieties of juices.
Customers who purchased at least two bottles of juice qualified for the grand draw by entering their coupons at all Massy stores.
de Myers said the promotion was a way of easing the squeeze for parents, especially with the start of the new school year last Monday.
"We are always excited to give back to our customers for supporting the brand and want to encourage them to drink our bottled water and juices because they are produced locally and are quality products," de Myers said.
Also present at Tuesday's presentation ceremony was Massy's William Peter Boulevard store manager, Alex Augustin. Three of the six winners made their purchases at that store. Augustin said his company remains committed to teaming up with its partners to give customers a rewarding experience.