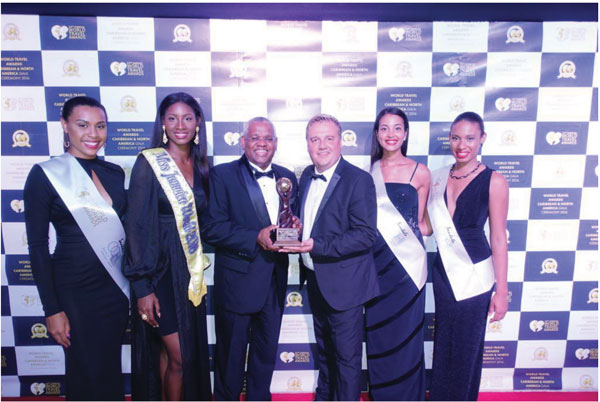 Less than a week after the inaugural Island Routes Certified Partner Conference in Ocho Rios, the Jamaica-based tour and destination management company, Island Routes Caribbean Adventures, has been named the Caribbean's Leading Adventure Tour Operator for the fourth consecutive year at the 23rd Annual World Travel Awards.
As the industry leader, Island Routes continues to focus on providing the highest quality experiences across the Caribbean. This was a focus point at the recent Island Routes conference where the company and Jamaica's Minster of Tourism Edmund Bartlett, both highlighted the strengths of continued inter- Caribbean collaboration for a positive guest experience and future growth.
In addition to being the region's leading adventure tour company, Island Routes also offers full destination management services with an expert team of SITE-accredited professionals. Island Routes provides ground handling services in Jamaica for a number of international tour operators, as well as exclusive tour desk management services across the Caribbean for Sandals, Beaches and Grand Pineapple Resorts, amongst other hotel companies.
Adam Stewart, Chief Executive Officer of Island Routes, said: "We are so proud to be recognized for the fourth consecutive year as the region's Leading Adventure Tour Operator. It's a testament to the Island Routes team and their relentless work. Last week I spoke about the importance of collaborating with our partners for our joint successes, so this award also acknowledges our Caribbean tour partners and their commitment to adhering to the strict standards required for our industry to continue to flourish."
Island Routes currently offers over 500 authentic tours and experiences across 12 Caribbean destinations, with expansion plans well underway. Current locations include Antigua, Aruba, Bahamas, Barbados, Cayman Islands, Dominican Republic, Grenada, Jamaica, Mexico, Saint Lucia, St. Maarten and Turks & Caicos.
With owned and operated assets including the Caribbean's newest and most luxurious fleet of catamarans and sport fishing boats, private transfers and The River Bumpkin Farm, Island Routes prides itself on providing flexible, customized, solution orientated results.
The World Travel Awards was launched in 1993 to recognize excellence in the world's travel and tourism industry. Votes are cast by industry professionals as well as the traveling public in more than 160 countries.