DOMINICA has been called by many names – 'Isle of many River's, 'Nature Isle' and 'the Green Emerald of the West Indies'. True to all its aliases, Dominica stands apart in the Island Neighbours as one of the last remaining Eden-like entities on the earth.
This week, we bring you Dominica's journey from its infancy as a colony to its state of adulthood. Many historians believe that Dominica was discovered as early as the 13th century. The first known settlers recorded were the Amerindians but the Europeans would soon follow in their quest for land and power.
Like Saint Lucia, Dominica was colonized by both the French and the English. Although Dominica was claimed by the French in the late 17th century, settlements were only established in the early 1700s. The Seven Years' War would prove detrimental to the French as the resulting Treaty of Paris would transfer the island to the British. Subsequent French invasions would prove unsuccessful and the British would later establish themselves as rulers.
The year 1793 saw the birth of Dominica's first legislative assembly. This would later speed up Dominica's political growth as she became poised for her role in regional integration initiatives. In 1871, she joined the Leeward Islands Federation but would later become a member of the Windward Islands. In 1978, the Nature Isle would branch off from Britain as an independent country and later achieve one of its greatest feats: with the first Caribbean female Prime Minister.
What do you think is the most notable moment in your island's journey from colony to nationhood? Tell us on facebook: Island Neighbours!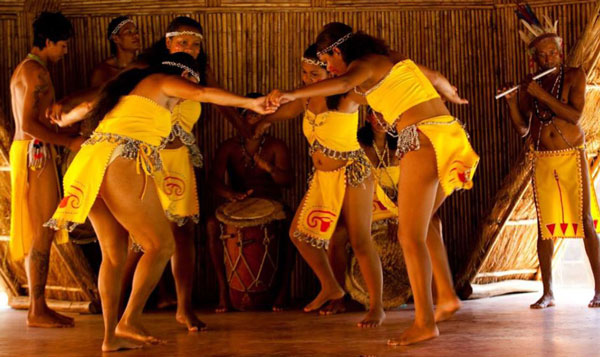 HAPPENINGS
Kalinago Week is here again. This year this event will be celebrated from September 16 to 25 in Dominica. This year's event will include Art and Craft shows, panel discussions, lectures, school visits and story-telling ventures. If you're in Dominica during this time, plan some time to enjoy the culture of our indigenous forefathers.
NEIGHBOURLY GETAWAYS
For a little time alone Island Neighbours invite you to Anse Crawen, in Iles des Saintes Guadeloupe. It is unforgiving to visit Guadeloupe without dropping into the surrounding islands. Anse Crawen is a secluded white sand beach on Terre de Haut, Iles des Saintes. At one time the beach was known for nude bathing … but not anymore. Being topless is accepted though.
LET'S GO SHOPPING!
Calling all shopaholics! A small bit of Creole with our dress accessories sometimes complements a mile long of history. Madras Bijoux in Pointe a Pitre, Grand Terre specializes in replicas of authentic Creole Jewellery. The jewellery shop will custom pieces just as you'd like them and repair them for longer life. This is the perfect place to save your favourite pieces or bend another for a friend or family member. Live a little! Shop a little!
HISTORY
Historical note! Did you know that Guadeloupe is not a separate territory but a region of France. Get to know your neighbours!
A bit of the French for the Visitor
Governments
Elections – l'élection
Candidate – le Candidat
constitution – la constitution
Democracy – la démocratie
flag – le drapeau
law – la loi
Mayor – le maire
First Lady – la femme du président
Politician – le politicien
Prosecutor General – la procurer général
Senate – le Sénat