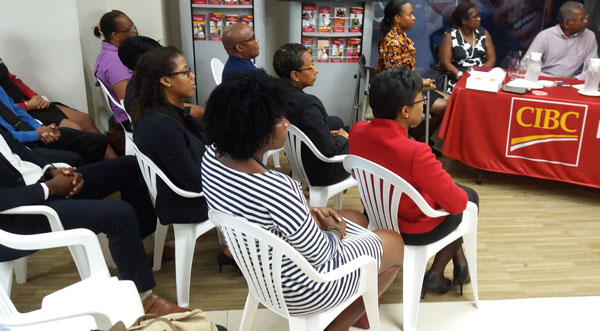 THE staff of CIBC First Caribbean Bank has once again making a grand effort in the fight against cancer which is one of the main causes of death in St. Lucia.
On Monday evening, CIBC-FCIB launched its fifth annual "Walk For The Cure" event which will feature a new initiative that is sure to pull in the numbers of participants.
The event is being held regionally in every territory that the institution operates; however, the local event will this year see two walks taking place simultaneously in the north and the south of the island on October 2.
Walk Manager Tia Henry told The VOICE that the launch was the bank's way of saying thank you to the sponsors as well as to raise awareness of the event among the general public, with hopes of getting them to participate.
She said all the funds raised will go towards two local organizations fighting the disease, Faces of Cancer St. Lucia and St. Lucia Cancer Society.
Henry said: "We know that cancer is a deadly disease and so it's important as I'm sure we know a friend or family member who has been affected by it. So as part of our corporate social responsibility, we saw it fitting to take on the initiative."
Henry noted that the walk has grown since inception and was hopeful that this year will have the best turn out yet: "When we started, we did not include the public because it was internal for members of staff and their family but like with any initiative, it grew bigger as we went along. We started with 50 walkers and up to last year, we had over 200 walkers. So this year, we are hoping to have even more as we're actually having the two walks."
Last year's walk raised $50, 000 , which was donated to the causes mentioned, with the confidence that the two organisations would be better equipped to reach the numerous individuals battling the disease.
The walk in the north of the island is scheduled to start at the bank's Rodney Bay Branch, taking walkers to the Mongiraud Gap, through to Monchy, then to La Retraite to end at Pigeon Island where there will be refreshments and activities.
At the same time, the walk in the south will start at the George Odlum Stadium and walkers will go down to the Laborie/Vieux Fort Highway, through to La Ressource and will culminate at the bank's Vieux Fort branch. Both walks commence at 6:00 a.m.
Last year, CIBC First Caribbean raised US $400,000 throughout the region for the fight against cancer and saw over 20,000 walkers participate.