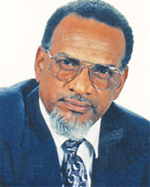 FOR the most part my public political life has been an open book. After the demise of George Odlum and John Compton, and viewing their departure against the backdrop of the new quirky characters that local politics was throwing up, I decided to withdraw completely from the political scene and concentrate instead on writing, including books, if I could. The passing of Jon Odlum confirmed that decision.
Lo and behold, up came new faces into the United Workers Party (UWP), including Dr Ubaldus Raymond, Dr Gail Rigobert, Mary Isaac, Dominic Fedee and of course the Francis Brothers and Bradley Felix. The new blood lifted my spirits. Here at last appeared a sample of men and women with potential to make a fresh start by fashioning a formula to work with the experienced ones Compton left behind him. At last, a new and better path offered new hope.
This new thrust can eventuate in success provided it takes the public with it. The electorate must be at the center of every aspect of government plans and work. Becoming deserving of their confidence is crucial. Every question ought to be answered as truthfully as possible; every false argument turned on its head. Lies, distortions and silence are anathema to good governance. Explain, explain, and explain! Communicate, communicate, and communicate!
And trust the people to understand. Do not allow fifth columnists and disrupters to spread poison without robust challenge and pointing the people in the direction of truth. There are persons who are past masters at running their mouths. The St. Lucia Forum and later the progressive wing of the SLP gave them a voice, they often abuse.
In the present matter involving a large foreign investment, the ideal approach is to allow those public servants and technicians who were at the centre of the design and planning, answer questions about the project. It makes no sense that Ministers of the former government who were as quiet as a church mouse when this matter was first discussed over a year ago should now try and pretend that they are hearing these proposals for the first time. Someone should tell these jokers to stop bluffing the people of Saint Lucia.
The SLP hacks apparently spend their waking hours trying to twist and disfigure the truth until it becomes unrecognizable? I've always maintained that liars know when they're lying. They know because they are aware of the truth. That awareness makes them capable of bending and distorting the truth. The objective of trying to discredit truth and make it into a lie must not be allowed to stand. No country or people can progress guided by a lie and/or, by liars.
There is one reality no Saint Lucian can longer ignore. The people know the truth and those who don't will recognize it when it's explained to them. If a political hack wishes to distort the truth to suit his or her party agenda, he or she should be called out and shamed for the world to see. Sometimes, the truth is difficult to accept because some people listen and hear with their emotions and not with their ears and their brain. Practical results from which they benefit, will help them see.
A recent example will suffice. Take the case of the ismissal of Sammy from the West Indies T20 cricket team. Is there any person in Saint Lucia who did not expect that event? Sammy had publicly made clear his support for the Caribbean Prime Ministers who want to completely revamp West Indies cricket, including getting rid of the present Board. Yes, we all need to be passionate about the sport we love. But had Sammy said nothing about the Board and merely praised his team for their heroic effort, it would have been more in keeping with the humble Sammy we had come to know. There's an old African proverb that says when elephants fight (the WI Cricket Board and WI Prime Ministers) it's the grass that gets trampled. Had Sammy been its best performer in the T20 game, the Dave Cameron Board would have found a way to get rid of him after the way Sammy humiliated them. The present Board is fighting for its survival!
In his present predicament, Sammy will soon discover who his true friends are. He will discover that his demise is not unlike the passing of a loved one. No matter how much people wail and cry, no one is going to the grave with you.
I take no pleasure in saying this but someone must tell it like it is. It is therefore a burden I carry with some effort and much pain. The truth must find a way to set us free. And truth telling seems to be at the heart of our problem and my burden.
Another issue which needs to be aired frankly and truthfully is the idea to resuscitate the banana industry – once fondly referred to here as green gold. There are new moves being planned for marketing local bananas. There are benefits to be gained from a closer association with Martinique which has traditionally been a good neighbour to Saint Lucia. We need to keep in mind however, that there will be devious and cunning persons who would do all they can to cheat and to gain an unfair advantage, in any new banana scheme.
Finally, the overriding protocol ought to aim at putting excellence and good quality first and foremost in every aspect of the country's work. The government should also aim at developing new arrangements with Winfresh even as it moves forward with Martinique banana exporters. France opens up the entire European Community market to Saint Lucia. We ought therefore to keep our options open remembering to put our people first and foremost at all times.