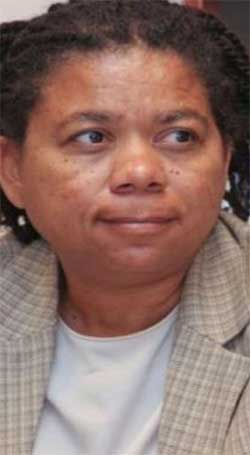 PRINCIPAL of the Sir Arthur Lewis Community College, Olivia Saunders has raised the possibility of a hike in school fees, saying that the present fee structure is totally unrealistic.
Saunders' remarks are made earlier this month at a press conference on the deplorable state of certain buildings of the college complex at Morne Fortune.
"At the moment our fees are totally unrealistic given the cost of operating the College," she said.
A higher fee structure has implications for financially deprived students who have earned a place at the institution?
But Saunders said: "I believe that every St. Lucian who qualifies for the College should have a place in the College whether they can afford it or not," Saunders said.
She backed up her words by stating that the College would now have to engage in a serious funding raising exercises in order to assist those students who are in need of financial assistance.
St. Lucians have yet to accept that the College fees would have to be increased however staff at the institution have already come to that conclusion noted Saunders.
"It is totally unrealistic if we do not accept that the fees at the Sir Arthur Lewis Community College will have to be increased," she said.
As correct as Saunders may be on the need to increase fees at the College, its implementation, however, may not be so easily accomplished.
An effort last year by the Ministry of Education to do just that led to protest action by students who stood their ground until the authorities backed down.
The National Students Council and students' advocacy on the island presented a united force against the hike in school fees as well as the Commonwealth Student Association which described the proposal to increase the school's fees as "grossly unfair" as it puts students in a precarious situation.
Tuition fees at the College were supposed to have been increased at the commencement of the 2015/2016 academic year, however the quick response to the proposal derailed those plans and forced a meeting between the school's Board of Directors and the students' body.
Prime Minister Allen Chastanet, at the time political leader of the opposition United Workers Party, called the move to increase the school fees "unconscionable".
The College is now moving to upgrade to a university collage. This move has been in the pipeline for many years now however of late, the idea appears to be gathering more steam.
"We are working towards becoming a University college," Saunders said, adding that within the next 12 months the school could very well be on its way in saying that it could become a university.
However the change in status would mean a definite rise in the institution's fee structure, something St. Lucians will have to accept.