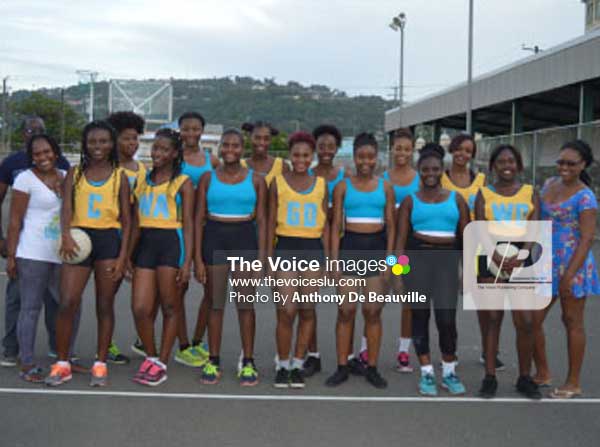 DESPITE St. Lucia not doing too well in netball at the sub-regional level at the moment, many young girls are showing interest in the sport in order to change our fortunes around.
With just three years on the netball circuit,New Village Ballers are destined to make an impact at the local level hoping that like the old Shamrock of yesteryear a few of their players will make it on the national team.
During a friendly match – up against a Gros Islet team that was played at the Vigie Multipurpose Sports Complex over the weekend, The VOICE spoke to Team Manager Curtis Sydney, about his new-found netball team and its exploits to date. "New Village Ballers was founded in 2013; actually we celebrated our third anniversary on July 28. What we're doing is basically getting a Division 3 team organized. It's a team from the community of New Village, trying to get young women empowered to play netball. We have a team of 16 young women who are at least interested in netball and are working on basic skills to prepare them for netball tournaments. We did well last year; the team participated in the Independence tournament and finished second in Division 3. It was a very good feat for us".
He continued, "That was a very good thing for the team members and they are all enthusiastic about the sport. It's a Division 3 squad, so they're pretty young. The sport of netball is something we try to get our young ladies involved in as much as possible. So many times we get new persons who are interested. We get them on board, teach them basic skills, and that's where we are right now. We are three years strong now and we are basically grooming them for national spotlight".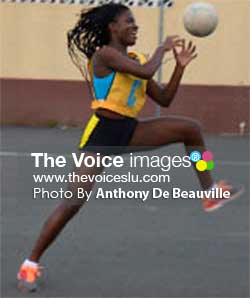 The VOICE: Your technical staff consists of how many individuals?
Sydney: We are a three member managerial team; we have a manager, assistant manager and coach. Portia St. Croix and Shanel St. Croix are from the community of New Village, so they saw the need to give back. I am originally from Corinth, so with my skill set in administration, I was able to come on board and assist them. So far we have done pretty well.
VOICE: How easy was it in the first instance to run a club like yours and how difficult can it be in terms of finance?
Sydney: It's not easy at all; there is not much support coming from the Netball Association. Like any organization, they too are financially strapped. They have not provided that support especially for a new team like NV Ballers. We are pretty much on our own. But we do is get opportunities through stakeholders and different financial agencies as it relates to gear and balls. We also purchase our own. The opportunity is there for the management team to do our best for the team. We do meet with the association as well as it relates to ground rules and tournament fixtures and so forth. That's as much as we get from them.
The VOICE: Apart from the various stakeholders, do the young ladies support the club financially on a monthly basis?
Sydney: We teach our members to pay subs every now and then as it will provide some level of financial support for the team. It helps with transportation, refreshments and snacks so the team could be refreshed for the game.
The VOICE: What's next for NV Ballers?
Sydney: We are looking at a number of initiatives both on and off the court as most of the young ladies are of school age. including a number of life skills sessions for them. We are hoping to host a NV Ballers Division 3 tournament next year where other Division 3s from around the island can participate with the approval of the St.Lucia National Netball Association.
The VOICE: Any final words.
Sydney: I am really appreciative about where we are presently. When we started the girls couldn't even hold the ball. They have improved and developed immensely. They have worked hard to be where they are at the moment. When it comes to community, it builds an individual, it builds up a player and this is what is happening to NV Ballers.