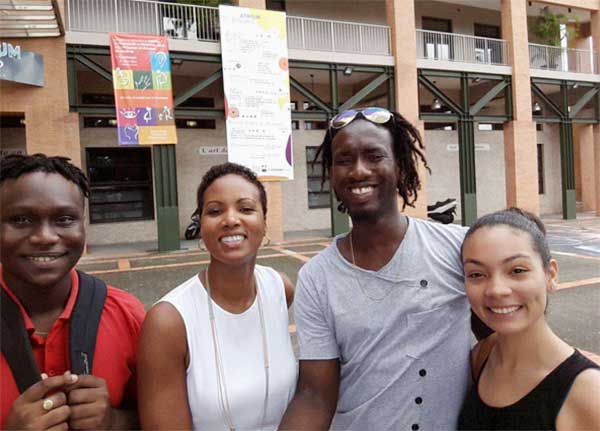 THREE St. Lucian dancers participated in the annual dance workshop hosted by the Confederation Nationale de la Danse (CND) in Martinique this last week. The experience was memorable to say the least. From the diverse styles of teaching and dancing they have recognised that St. Lucia has leaps and bounds to go.
Richard Ambrose, no stranger to the St. Lucian stage, is a professional dancer trained in Paris and Guadeloupe. He admits that exposure to international dance training and interacting with dancers from all over the globe 'gives you a better perspective of what's happening out there..' Ambrose confesses that he tries to find opportunities for dancers in St Lucia to have similar experiences to stimulate their own desires to excel in the performing arts.
On this trip Christopher Sayer, whose background is in music and Leeryk De-Lima, a student of the St. Lucia School of Ballet took up Ambrose's challenge and embarked upon this adventure to our French neighbours.
The group encountered several difficulties at first, knocking on several doors for assistance. It was Yasmine Walcott who came to their rescue. Operating from the St. Lucia consulate in Fort de France, Walcott was able to assist the dancers in meeting the various regulations of the French state.
Their diet which consisted of Afro house, classical ballet, jazz, raggae, hip-hop and dancehall were deliciously enjoyed served by tutors from Havana to Okinawa.
"Can we go back next year?" Leeryk exclaims, excited at the prospect of dance and being immersed in French culture -not to mention eating crepes. As for Sayers he got totally engrossed in Afro house and stole the odd occasion to sit at the grand piano in the studio.
What a rich experience and a rewarding week! The Confederaion hosts this week-long workshop every summer. The dancers though embarking upon this journey independently believe it to be a rewarding experience that all St. Lucian performing artists should support, as well as government agencies. We need to realize what is required to help the arts and culture thrive. We need to raise the standard and the level of sustainability in the arts sector.
Welcome home dancers! Bienvenue chers danceurs!