Two Win E.C. Global Tournament.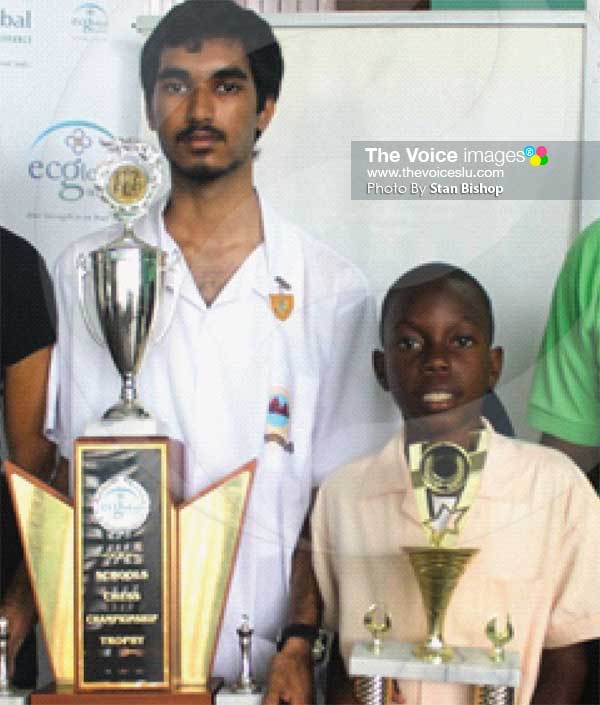 Eleven-year-old DimitriVerneuil and 16-year-old Dion Recaii are the 9th Annual EC Global Schools' Chess Tournament champions.
Verneuil represented Gordon & Walcott Memorial Methodist Primary while Recaii represented St. Mary's College, with both champions playing their last game for their respective schools.
Verneuil said he started playing chess three years ago after his mother bought him a chess board and has been participating in the annual tournament since then. He also expressed thanks to the members of the St. Lucia Junior Pride for encouraging him to get better at the game.
Last Thursday's tournament was held at the Castries Town Hall where students from various primary and secondary schools sought to outdo each other in the game many studies have concluded builds character and helps players mentally.
Verneuil, who placed fourth in his first tournament and fifth last year, said this year's win was his best moment since playing the game because he wanted to leave a parting gift with his Alma Mater.
"I'm very proud that I won this year," Verneuil told The VOICE. "I didn't do this for me, but for my school. I want them to remember me because I will be attending Entrepot Secondary School from September. So I'm encouraging the other primary school students to play the game."
Recaii, who started playing chess at age six, has won the secondary schools' category of the tournament for the past three years and has participated in the event since he was in Form One.
However, since the tournament was cancelled when he was in Form Two, this year has been his fourth year of competition. This summer, he will be attending Sir Arthur Lewis Community College, where he hopes to make the game a staple, adding that chess has worked magic for him in real life.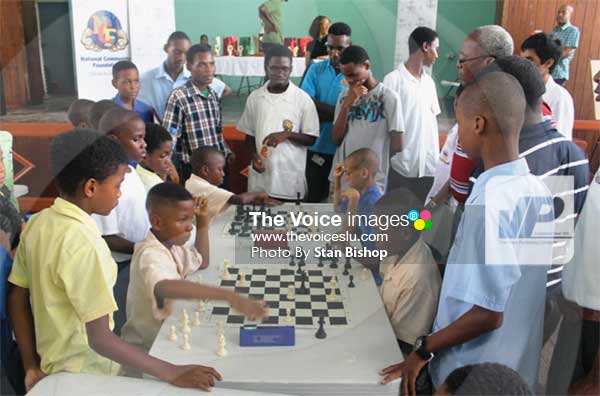 "When I began learning more advanced strategies, I realized that some of them are not just chess-related but can actually be used in everyday life," Recaii told The VOICE. "For example, I've learned to use the pieces I have in a way that will maximize what they can do. So I've learned to use that advice in real life."
This year, eleven schools fielding 30 students, and one community group participated in the tournament that began in 2005.
Dennery Primary's Gordon Clersaint and Gordon & Walcott Memorial Methodist Primary's Noah Harrison placed second and third in the primary schools category while Castries Comprehensive Secondary's Azemyah Celestin and Leon Hess Comprehensive Secondary's Marron St. Marthe placed second and third in the secondary schools category. The top performing school was St. Mary's College.
NCF Executive Director, Madonna Monrose, said this year's tournament was "very competitive" despite organizers being a bit disappointed that a number of schools that had confirmed their participation up to the day before the tournament did not show up for the event.
However, she attributed the no-show by those schools to the tournament clashing with the closure of schools and graduation ceremonies.
"Those who did come to play were very involved in the game and all wanted to win, which augurs well for the future of the game," Monrose said.
Monrose said there is a 'First Move' chess programme in 18 primary schools, an established programme first introduced by the Rotary Club in collaboration with the Ministry of Education and the NCF. However, the older students participating come from secondary schools in which there are chess clubs.