10-Day 'Silver' Event Climaxes This Weekend.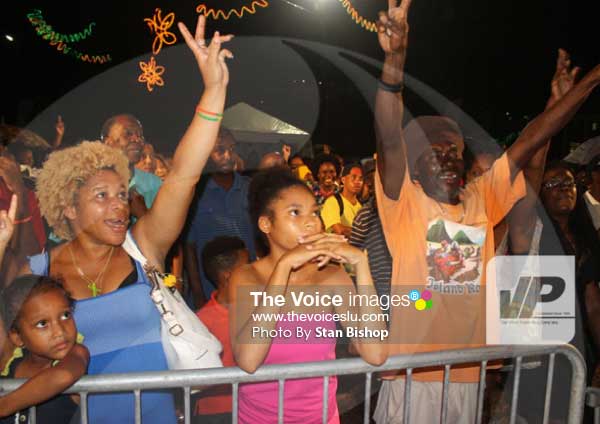 THIS year's ten-day Saint Lucia Jazz & Arts Festival comes to a close this weekend with a star-studded lineup featuring Saint Lucian, regional and international artistes expected to end the festival on a high note.
The three-day weekend of the final round of music performances began last evening at the Pigeon Island National Landmark where Main Stage Friday featured Omi, Shaggy, Teddyson John featuring Kes, and Da'Ville were expected to perform, with Rob "Zii" Taylor holding down the vibe on side stage.
Today's line-up features Irvin "Ace" Loctar, Omarion, Kassav, BWB featuring Norman Brown, Rick Braun and Kirk Whalum. Side stage performances will come from R&B crooner Michael Robinson and the soulful Claudia "The Diva" Edward.
The big finale to end the silver anniversary of what is being dubbed the region's premier music festival comes to a climax tomorrow, coinciding with Mother's Day. Latin pop star, Marc Anthony will headline the show that also includes Ronald "Boo" Hinkson, George Benson, Air Supply, and Kool&The Gang, while side stage will feature Jesse Leonce, Barbara Cadet and Alibi.
Throughout the past week, various festival-related activities were held throughout the island, beginning with the official opening last week Friday at Mindoo Phillip Park where Jamaican dancehall star, Mavado, headlined. Other events included the Arts Night (Theatre) featuring Saint Lucia-born British-based actor, Joseph Marcell, performing lines from Nobel Prize-winning poet Sir Derek Walcott's "Omeros".
The hot ticket fashion show, Hot Couture, also took place during the week at Sandals Grande and featured clothing lines from 13 Saint Lucian, regional and international fashion designers. There was also Jazz on the Square and Teatime Jazz featuring artistes from Saint Lucia and the Caribbean.
At the official launch of this year's festival in January, Director of Tourism, Louis Lewis, indicated that despite budget restraints, organizers were doing their best to ensure that this year's milestone lives up to its "Unforgettable Journey" tagline. The biggest challenge, he told The VOICE then was satisfying the patrons' varied appetites despite having limited finances.
Nevertheless, this year's festival has come under fire from many patrons who have already registered their discontent at what they deem lackluster performances by some artistes. For instance, many patrons took to social media following Mavado's performance during the festival's curtain-raiser, accusing the dancehall star of shortchanging them.
But with the festival coming to a close, organizers seem to be changing things around a bit to make the festival more accommodating. Such changes include a slight repositioning of the Main Stage at Pigeon Island to allow patrons a better view, especially those seated at a distance.
While this weekend's impressive artiste lineup is expected to register some high notes, organizers are also hoping that a record number of patrons will show up, especially since the festival has hit a major milestone in its longevity.