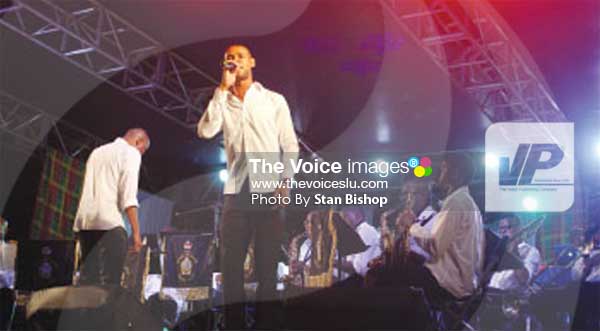 WITH just four days to go before this year's Saint Lucia Jazz & Arts Festival ends, there is a growing concern as to whether the festival's silver anniversary will truly live up to its "Unforgettable Journey" tagline.
The festival opened last Friday evening at Mindoo Phillip Park over an hour past its scheduled start with three minutes of fireworks. Tropixx Band, Nerdy, Arthur, Mysterio, Sirlancelot, Michael Robinson, Ezra D'Funmachine, Derek Yarde Project (DYP) and Sedale and Wildfire all gave hyped-up performances, proving that Saint Lucian talent continues to be a major influence.
Trinidadian soca artiste, Lyrikal, was forced to play catch-up, having to perform after the abovementioned artistes. Nevertheless, he did get some love from the packed Mindoo Phillip Park crowd, including from a few female fans who joined him onstage to assist him with his, er, performance.
But it was Lovindeer's performance that brought the crowd back to life. Performing his signature hits such as "The More The Merrier", "Man Shortage", "Don't Bend Down" and "Wild Gilbert", the 68-year-old veteran Jamaican dancehall artiste had some older fans singing their way down memory lane and others finally putting a face to the man whose music they would have heard for years.
However, it was Jamaican dancehall star Mavado's performance that many patrons cannot seem to stop criticizing on social media. The headliner's erratic stage antics – often singing a few lines from a song before ripping into the next and running offstage – did not go down well with many patrons who complained about being shortchanged.
It did not help, either, when Mavado's team posted the following on his Instagram page on Saturday morning: #Mavado shell the place in St. Lucia in front of 30k people!! Impressive Mavado Gully". That comment started a firestorm with many people venting their frustration about Mavado taking credit for a performance he never delivered.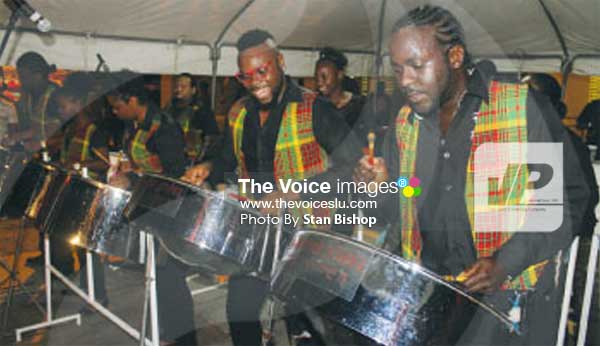 The opening weekend picked up nicely, however, on Sunday with the Party Under The Pitons featuring Rob "Zii" Taylor and Black Sheep, EvaLucian Band, Gregory Sinaise, Wyclef Jean and Maxi Priest. Despite many issues faced with that Soufriere event last year, the general feedback from patrons is that the event has improved overall. Maxi Priest, they say, was the stand-out performer on the day at the Soufriere Mini-Stadium.
Also on Sunday, a packed audience at the National Cultural Centre saw an eclectic mix of dancers paying fitting tribute to late dance instructor and cultural icon, Virginia "Auntie Virgie" Alexander. That event, dubbed "4 Decades of Dance: Honouring Virginia Alexander", formed part of the annual Cultural Icons Series.
Many of Alexander's past students, including Tania Isaac-Hyman, Shakeena President-Beckford and MicoleAubertin-Murray, joined a cast spanning three generations as the audience gained some insights into the life's work of Alexander.
On Monday, Strings, Karma, Phases, Dean Williams Quartet with Lletesha Sylvester and Sanchez performed at Jazz a la Chaudiere at Phillip Marcellin Grounds. Despite a small crowd, that activity proved to satisfy patrons' musical tastes buds.
The spirit of jazz made its way around the island throughout this week with the Monchy Mizik EnKweyol held last Tuesday. The crowds came, they enjoyed it and this event definitely should be kept on the jazz calendar. On the line-up offering impressive music were the Royal Saint Lucia Police Band, Gregory Sinaise, Dynamics Band, Secret Band, Pantime Steel Orchestra, Chocolate and Derek Yarde Project (DYP).
The Arts Village at Massav Park opened yesterday at Choc, offering patrons colourful glimpses into the works of the island's best artists. Among the artists whose works are on display are Sir Dunstan St. Omer and JallimEudovic.
The jazz mood continues today with Jazz on the Square, Teatime Jazz, and the Jazz Showcase before entering the final weekend with the Main Stage events at the Pigeon Island National Park.
For most of the past few days, overcast weather has been the norm. However, organizers are hoping that with some expected sunshine comes an increased momentum in the festival's performance thus far.