Annual Walk May 29.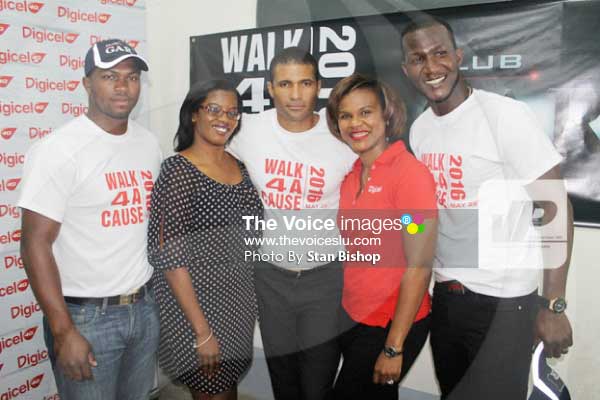 THE fight against diabetes has attracted a few more allies with Club Gar partnering to create awareness about the non-communicable disease with its upcoming Walk 4 A Cause.
Walk 4 A Cause is an annual charity event organized by the shooting club to assist causes that make a difference in people's lives. This year's walk takes place on Sunday, May 29.
Since its inception in 2014, the walk has raised thousands of dollars in support of the Saint Lucia Cadet Corps and the World Pediatric Project, a health charity that provides life-changing interventions for children.
This year, the organizers are zeroing in on diabetes with all funds going towards the Saint Lucia Diabetic and Hypertensive Association's fight against the disease afflicting many Saint Lucians.
Co-organizer of Walk 4 A Cause, Anthony Bristol, says that while diabetes is a largely preventable disease, its effects continue to have a negative impact on the nation's health and quality of life. Moreover, the financial costs incurred in treating the disease becomes a burden — both on those affected directly and the State that has to subsidize certain treatments, including dialysis.
Bristol said that by harnessing the efforts of corporate sponsors and other partners, the aim is to raise awareness by letting people know the importance of healthy living and exercise so that they remain productive, healthy citizens.
"We've done a lot of research with the doctors at the hospitals and have found that the dialysis machines are not the problem, per se," Bristol told The VOICE. "The problem lies in the cost of the treatments needed and the filters and other things needed that often run into six-figures per year per patient. So it's a tremendous national cost. What we have to do right now is to stem the problem by preventing it."
The walk's 4-mile route begins at the Vigie Roundabout from 6:30 a.m. and ends at Club Gar's indoor facility at Bois d'Orange and will be hosted under the theme, "Today Is The Day". Individual walkers pay $20 each, group members pay $15 and schoolchildren pay $10.
Bristol said the annual walk has grown in numbers over the past two years, registering 400 participants in 2014 and 650 last year. The goal this year, he said, is at least 1,000 participants.
Consultant nephrologist, Dr. Merle Clarke, said Club Gar's choice of this year's cause was an excellent one, especially with diabetes being the principal cause of kidney disease. She said the high number of cases of diabetes, amputations and chronic kidney disease and the inability to dialyze all the patients requiring dialysis has seen Victoria Hospital and the Renal Association stressing the need for prevention.
Dr. Clarke said Type II Diabetes is the most prevalent form of diabetes in Saint Lucia, accounting for over 90% of all cases. For the most part, this type is preventable since it is lifestyle-based and can be prevented by following proper diet and exercise regimens. She said with many children becoming obese at a very young age, the prevalence of Type II Diabetes grows. As such, prevention remains crucial against the fight against diabetes.
Digicel's Country Manager (Saint Lucia), Siobhan James-Alexander, said Club Gar's involvement in activities that benefit the wider community dovetails with her company's philosophy of giving back. She believes that despite diabetes affecting many households, the disease often goes overlooked. Signing on as title sponsor, she said, was strategic.
"We felt that we have a good span. So we have the people and (Club Gar) has the cause and that's why we came together. It's about awareness and we think that we have the medium to do that," James-Alexander said.
West Indies T20 cricket team captain, Darren Sammy, is one of the high-profile figures lending support to this year's walk. Creating awareness about the need for preventing diabetes through exercise and eating healthy, he said, fosters a better, healthier nation. As such, he said he fully supports the cause despite touring commitments which might prevent him from participating in the walk.
However, Sammy explained that with Saint Lucia being identified as the "diabetes capital of the world", proper lifestyle habits are key to living longer, productive lives. As an athlete, he said while exercise might seem inessential to people at times, the end-results are what matter.
"To train and live a healthy lifestyle is a bit difficult. It might be costly as well," Sammy said. "But if you do not value your health, you cannot do many of the things you take for granted, such as getting up in the morning, going to work and providing for your families. So I don't think there should be any excuse for living healthy. The mind is at its best when it is healthy."
Teammate Johnson Charles also threw his support behind this year's walk, urging Saint Lucians to participate and to follow regular exercise routines and proper dieting.