Latest Protégé Speaks Of His Mentorship.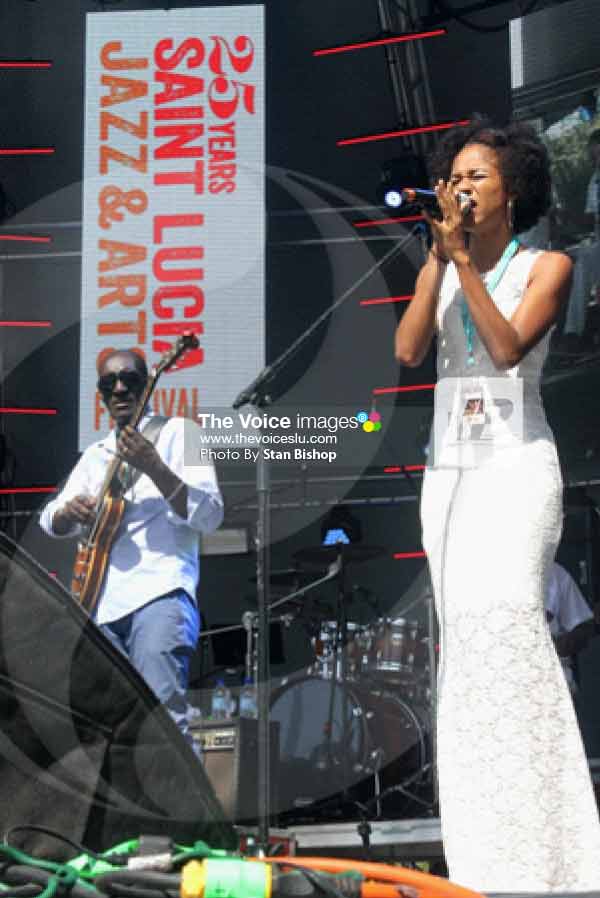 LEGENDARY guitarist, Ronald "Boo" Hinkson, seems to have made another artiste's dream come true. And his most recent protégé is sparing no words in thanking the veteran musician for allowing her to share his stage.
During his Main Stage performance last Sunday at Pigeon Island National Landmark, Hinkson introduced 24-year-old Vieux Fortian, Shannon "Kim" Pinel, to the fans, telling them that she's one of the rising stars to watch.
Shannon did an amazing rendition of Hinkson's "King of my Jungle", a groovy ballad that has won wide acclaim since being released some years ago. Shannon was among a handful of musicians making up Hinkson's set that day; ace music producer, Irvin "Ace" Loctar", also sang some tracks.
Hinkson's knack for introducing new talent to big stages goes far back, including many artistes whom he took under his wings and worked assiduously to whip into top shape. He has also seen many of them go on to do bigger and better things. But it is the deep satisfaction he gets from seeing them succeed, he said during an interview with the media, which makes the process worthwhile.
"I feel a great sense of achievement," Hinkson said. "More than that, it's more gratifying when you see them succeed (and) not just that they're playing music. When they succeed, it's a good feeling inside. For people like Arturo Tappin (saxophonist from Barbados) and I who have done well, it must be an internal imperative, a commitment for us to nurture upcoming generations of musicians and open new doors for them."
But just how does the musical maestro, a former band mate from Tru Tones and Grammy judge, shortlist those budding artistes who would later go on to fly higher up the musical scale?
"Generally, if I notice something going on with young people, I take a listen and source the ones that are good enough to take under my wings, help them and take them on tour. I took "Ace" (Irvin Loctar) to the White House with me because he's that good and he needed to experience something at that level. So the next few trips that I have pending, I'll be taking Shannon with me. She's a very good singer and all she needs is the opportunity, guidance and some moulding into a great artiste," Hinkson explained.
That's right. Shannon will soon be playing along with Hinkson's band as he makes several stops at home and abroad on tours that often get in the way of his even putting his albums together. Hinkson is currently working on a new album but said the rigours of performing at several overseas gigs have resulted in delays. Nevertheless, one of the album's singles was released a few months ago, spending about two months on SmoothJazz.com's Top 50 charts.
Shannon told The VOICE that while her life experiences have been difficult, music has always been her escape route. Being able to perform with Hinkson, she said, has been one of the most amazing experiences in her life.
"He's a great teacher, musician and human being," the young singer said.
Shannon started singing in church at a very young age, later joining a few musical bands, including Tropixx, where frontman, Shomari Maxwell, gave her vocal training sessions. She later left the band and continued working on her voice, hoping for her big break to materialize. Apparently, Main Stage Sunday was that break she needed.
"It was nerve-racking standing next to someone so amazing with the thrill with which he introduced me to the crowd," Shannon admitted. "I felt like I belonged there and on top of the world. I really do enjoy working with him."
The young mother of two said that despite getting offers to work on cruise ships as a singer, she believes Hinkson's mentorship supersedes such opportunities. Moreover, she looks forward to performing alongside her mentor for his upcoming gigs here and abroad. It is also about showing appreciation to Hinkson for recognizing her talent and giving her the platform to share her voice.
"I treat every great experience as the best ever just to show appreciation; not because I believe it stops there but because it opens doors for greater things to happen. I always know that the best is yet to come. I have not yet reached my pinnacle and even then I strive for better," Shannon said.
Hinkson, a regular at the Saint Lucia Jazz & Arts Festival, has performed alongside some of the world's best musicians, forging friendships with many of them, including George Benson, for whom he opened last Sunday. He believes that Saint Lucia has a huge wealth of talent that needs the support that can make them shine even brighter.
"All of us Saint Lucians must find, nurture and support them. We have to make them stars in their country. That is very important. We have to support them so that they become huge. When they walk the streets, everybody must want their autographs. We must do that for our young people in our country. If we don't do that first, it's embarrassing for somebody to come in and do it. We're very good at conspiring against our own and we have to stop that," Hinkson explained.