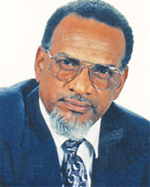 Six weeks or so ago my 'Confessions for the Soul' in The VOICE was meant to convey spiritual growth, reconciliation, and the revelation of a place where one confronts inertia, doubt, indiscipline, and impatience. Shortly thereafter I ran into someone whose known scholarship and humility are worthy of emulation. During a brief dialogue, he raised a matter which stunned me, thinking that the incident had long been buried and forgotten. I was therefore taken aback by the disclosure of hurt which I had inflicted on him and others, many years ago. I was totally unprepared for such an unsolicited disclosure. The man's sadness was palpable. It discomforted me.
If you, dear reader, guessed that the topic of the above disclosure was of a political nature, you are correct. But what on God's green earth I wondered, did I do to solicit so much pain in that individual? The man had obviously held me in high esteem and I became more and more concerned that I had unknowingly hurt his feelings, and that of others. When he finally disclosed that the political incident had happened about twenty-five years ago. I became even more concerned.
After we had gone our separate ways it occurred to me that people are sent in our path for a reason. It's left to us to determine these reasons and ferret out hidden messages as best we could. Such unplanned encounters are often intended to serve a larger purpose. Not long after this reflection I came upon the following by James Baldwin: 'I understand why people hold-on to hate, because once the hate is gone they'll be forced to deal with pain'. I was now forced to ponder whether such pain was a poisoned chalice of retribution, or whether it merely represented heartfelt regret. Would such a feeling purify the soul exposing love and beauty or was there another purpose to it? Would an apology of sorts or an explanation help appease another injured or grieving heart?
The year was 1992 and the venue was the Laborie Boy's School. After a winner had emerged at the party conference, Lawson Calderon and I approached the stage determined to congratulate the winner against whom we had both contested the leadership of the party. To our great dismay and surprise "boos and jeers" rang out as if to suggest that we were no longer welcome. It was an insult and a rebuff which we did not deserve, nor took lightly. I later realized I had nursed that pain far too long. I was more deeply hurt than I admitted. Many in that conference room had joined the party after me. Many may have been drawn to join after former Forum colleagues and I did. The Forum's work had energized that lackluster party molding it into a new and dynamic organization, fit for government again. The St. Lucia Labour Party had then become a force to reckon with. My colleagues and I displayed our preparedness for political office by our informative speeches on the Castries Market steps which we had renamed 'the University of the People.'
To add insult to injury, it was later drawn to my attention that I was officially kicked out of the party by the new kids on the block who were selected on the party executive after Laborie in 1992. These upstarts were obviously fearful or uncomfortable with my tough, no non-sense progressive politics and my repeated references to the rules of the party. I reminded them of the duty of a political leader after the loss of a general election. These made some persons uncomfortable with my presence in the party. After devious plots I was kicked out. I decided that I would retaliate with a kick of my own. A simple 'sayonara' would not do for this warrior. I had to show that I was not to be trifled with.
When the right moment finally presented itself at a public meeting of the UWP at Vieux Fort, I grabbed my old red T-shirt, rolled it into a football, and the kick resonated far and wide. Its echo is still disturbing twenty-five years later, as the early reported conversation above proved. I was reminded of that incident by one that I did not associate with politics; a more private than public person. Perhaps it was the shock of his disclosure and the pain I felt in his voice which has forced me to re-examine the past and pen this article.
I had no idea that so many would have taken that kick of an unfeeling red T-shirt which belonged to me, so badly and that, that hurt would have lasted such a long time. To those who were (and still are), offended by that kick of my old red T-shirt, I truly regret your hurt. I am aware the huge difficulty of letting go after so much hate, held for so long. I experienced that difficulty myself. I finally let it go after three or four years and reading Peter, bk. 1, ch. 3 v. 8&9. My behaviour was revenge which I should have left to God. It ought not to be taken personally.
Be assured that the pain will end when we decide to let go, forgive and move on with our lives. Once this is accepted we can move ahead without the hate and the pain. Let us therefore move forward together as one people under God, as we nurture love and cast hate aside. I hope and pray that this article better explains the past incident and that this truth will help mend the pain and replace it with love – the greatest gift and commandment – this May Day 2016.
The good Lord knows our island needs more love, more prayers and less hate if we are to progress. I therefore pray that the love and positive role which George Odlum, myself and others played in the resuscitation of the trade union movement in Saint Lucia after the demise of early pioneers such as George Charles, Oleo Jn. Baptiste, Charles Augustin, Francis 'Puck'Carasco, Burke King and others, be remembered at this and other May Day (Labour Day) observances.