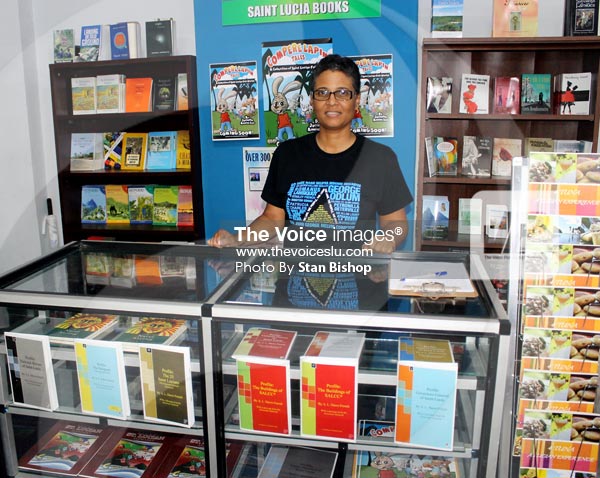 If you are ever in need of some patriotism and St. Lucian spirit then today's WOTW is the person to look for.
Dawn French who has worn many hats career-wise is being recognised for her writing skills today.
French is an author and to date has penned over 400 books with the majority of them being about  things St. Lucian ranging from the people to the island's geography and topography.
When asked about her skill of writing, French said it was something that could not be explained. She said as long as one recognises that it's a gift from God then one should just go with the talent and use it rather than spending time trying to explain it.
She said: "It comes to me and I just do it but if I don't do it then it won't leave me alone until I do it whether it's 2:00 a.m. or on an eight hour flight to England. When it wants to come, that is when it's coming and I must obey."
The author said one of the challenges that writers today including herself face is in getting such material into the school curriculum both via the Ministry of Education or through the schools directly.
French says what drives her to continue her writing is to get the new generations to read again. : "I'm doing the research on St. Lucia and the gaps are so huge in people you would not believe. His Excellency Boswell Williams died recently; he was a former Governor General of St. Lucia and when the gentleman died, the question on social media was 'Who is that?' This is a man who was alive with us, amidst us. If we are forgetting who our people are now when they are among us, what do we leave for the second and third generations one hundred years from now?"
She added: "What is really driving me is to make a record, which is why I always give my work to the Archives, so that someone coming after me will not face that historic gap that I am facing."
French advised anyone with interests in writing to just go for it. She suggested that new writers first write everything down and worry about errors later.
Something interesting about French is that she comes from a family of achievers. On the opening of this year's National Archives Month, a portrait of her uncle B.G.O. French was unveiled as well as art pieces of another uncle Sir Ira Simmons.
She said: "They're not here to say anything but I feel their presence on my shoulders, because the two uncles that I've mentioned are  from my father's and mother's side. They're looking down over my shoulder and saying; 'don't stray from that path that's already been set".