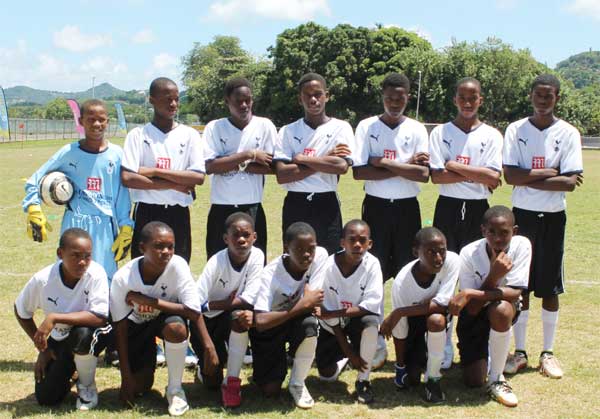 FOOTBALL action resumes on the weekend at Marchand Grounds and the Sab Sporting Facility as teams look to book places in the knockout round of the ECFH / LUCELEC sponsored Youth Tournament.
Meanwhile, Sunrisers FC under – 17 went onto the Marchand Grounds this week and handed home team Big Players a 2-1 defeat playing for the first time ever under lights.
Sunrisers FC took an early advantage when Aaron Richard found the nets in the 10th minute. Chris Sylvester equalized for Big Players in the 66th minute, but in the 82nd minute Richard recorded his brace and secured all three points for the visitors.
In the other under – 17 match of the weekend FC Pioneers and NYAH played to a 1 – 1 at the SAB. In a match where both teams abandoned any semblance of defensive organization FC Pioneers were particularly guilty of wasting several goal scoring opportunities. The end shared points was an appropriate result in a match where attackers on both teams badly let down their teammates.
For FC Pioneers the goal scorer was Romario Lendor in the 32nd minute and for NYAH Epheus Edwin got on the score sheet.
In another under – 17 match Valley Soccer Academy got the better of GMC United by 9 – 0. There was hat trick for Randy Serville, two goals for Andrea Donnell and a goal each from Turjard Stava, Wilson Charlemagne, Djal Augustin and Avian Girard.
In under – 19 action VSADC took on Super J Northern United at Marchand in the featured match on Sunday. The match ended 1 – 1, but afterwards the points were awarded to VSADC because Super J Northern United fielded ineligible players.
The under 19 match between Dominators and Sunrisers FC ended 1 – 1. Sunrisers FC took the lead in the first half thanks to a goal from Aaron Richard but Kerry Joseph earned a point for Dominators with a goal in the second half.
The under – 19 encounter between NYAH and Ciceron Seagulls scheduled for the SAB did not take place as neither team was able to provide the required age verification documents for their players.