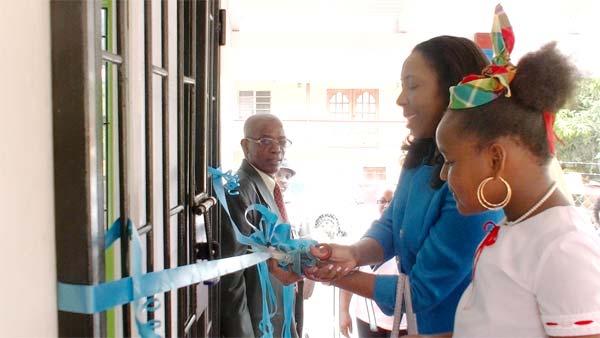 STAFF of the Babonneau Wellness Centre joined the residents of La Guerre in breathing a sigh of relief at the re-opening of the La Guerre Wellness Centre last week.
The newly refurbished and expanded facility is over three times the size of the previous wellness centre at the same location. The facility will serve the communities of Plateau, Boguis, Monier, La Guerre and environs.
Chair person of the Babonneau Constituency Council, Dr. Virginia Albert-Poyotte stated that based on reports reaching the council's office, the Babonneau Wellness Centre was overloaded with an increase in numbers of persons accessing services at the centre in the absence of the La Guerre Wellness facility.
"This is going to be a very valuable institution. It's going to play a critical role in ensuring that the people in the immediate surroundings have access…I must say it is a welcomed structure… a welcomed institution and it will serve the people well. Without that wellness centre the people had a lot of challenges." Albert-Poyotte stated.
Executive Director of the Social Development Fund (SSDF), Joachim Henry recalled that the La Guerre facility was established in response to the land slippage in Boguis which rendered the Wellness Centre in that area uninhabitable and created a demand for health services. Thus a La Guerre health outpost was created to provide health service support to the Babonneau Community.
Henry stated that the La Guerre Wellness Centre is the last to be constructed under the Basic Needs Trust Fund Programme (BNTF). The BNTF, he says, now focuses on access, water and sanitation and education.
"The Minister really pushed hard to ensure that La Guerre was established under the Basic Needs Trust Fund…The BNTF sixth cycle after about 30 years being in St. Lucia decided to consider this proposal at a cost of approximately EC$744,000."
Permanent Secretary in the Ministry of Health, Wellness, Human Services and Gender Relations, Cointha Thomas accepted the keys to the facility from the SSDF Director and indicated that the La Guerre Wellness Centre is outfitted with "top of the line, modern equipment," and will go on record as having the one of the most advanced Health Management Information Systems on island.
Minister for Health, Wellness, Human Services and Gender Relations and Parliamentary Representative for Babonneau, Alvina Reynolds thanked the residents for their patience and understanding while the facility was under construction.
"The re-opening today of this new, upgraded, well equipped, comfortable facility which will serve your communities is a bigger part of the plan for improving the performance of the health care system in St. Lucia." Reynolds stated.