FOR nearly seven decades, Joseph "Rameau" Poleon's name has resonated with Saint Lucians throughout the Diaspora, probably as much as his music has had an inspiring effect on their lives.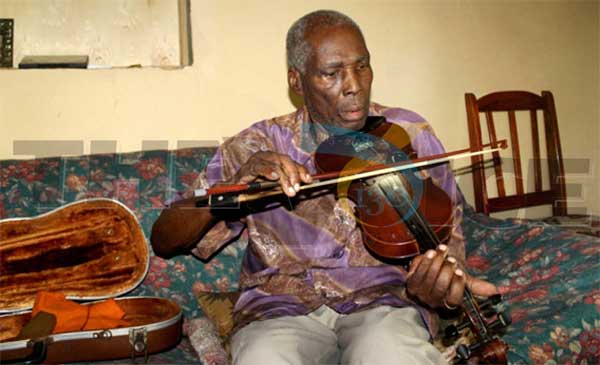 So great is his genius that whenever the names of outstanding Saint Lucians are mentioned, his invariably comes up. To hear him tell his story about his rise to fame, though, debunks any doubts about Poleon's title of cultural icon.
Born Joseph Poleon on July 10, 1929, the man most people know affectionately as "Rameau" has blazed a musical trail almost singlehandedly for which his violin still speaks beautiful, voluminous notes. Within the first few minutes of my sitting down with the 86-year-old at his Belle Vue, Vieux Fort home recently, I immediately got the impression that – like his music — his story would be beautiful music to anyone's ear. It turns out I was right.
When "Rameau" was 15 years old, his uncle, Flood Poleon, taught him the basics of playing the instrument on the violin his father gave him that year. From then on, Poleon would play anything he heard, spending the ensuing years teaching himself the advanced aspects of playing the stringed instrument.
A major transformation in young Poleon's life came when he attended a violin convention in Micoud early in his life. After watching and listening to a violinist play there, Poleon went home, took up his violin and played the very tunes he had heard earlier. Quite often, too, his father would sing songs at home while young Poleon played the violin. And thus began the story of how Poleon's keen ears made musical magic.
"Whenever I heard something nice being played, I would listen to it well and then play it on my violin. Even now, that's how I am," Poleon said.
Poleon, who was born, raised and still lives in Belle Vue, still plays by ear and has no formal musical training. He played the cuatro excellently before switching to violin. From an early age, he would listen to musicians play the quadrille, polka, widover, Scottish. After listening to them play, he did it better.
He soon formed the Rameau Poleon Band made up of six musicians playing the cuatro, banjo, violin, guitar, shak-shak. In 1979, Poleon became a member of the Mount Gallion Band formed that year which included band leader/drummer/lead singer, Eric Adley.
The band had regular gigs on the local hotel circuit, receiving much adoration from tourists. It was always a crowd favourite at La Rose, La Marguerite and Jounen Kwéyòl festivals. The stars might have shone in his band at the time but Poleon's greatness was never missed. His star shone brightest.
"Whenever people heard what I played, my band would get invited to play at many functions. There we would play our music plus whatever they requested," the violinist explained.
Poleon's exceptional musical talents have brought him to locales beyond the shores of Saint Lucia, namely England, French Guiana, Martinique, Trinidad, Barbados (for CARIFESTA, 1981), Canada, and Seychelles. He has also performed on occasions with the late "Queen of Culture", Dame Marie Selipha "Sesenne" Descartes, whom he described as "a beautiful singer".
Poleon said he had a decent upbringing, with both parents – Jolliffe Joseph Poleon, a famed fortuneteller/herbalist and Tina Poleon — contributing towards a stable family environment. His adulthood, he said, saw him working hard holding down two jobs to earn a living and bring his music to greater heights.
"When bananas were in their glory days, I used to plant bananas to earn a living," Poleon said emphatically. "I never really liked working for people. So I used to plant bananas and play my violin to earn a living."
Poleon's rare talents include him treating music with a deep respect. It's that kind of respect that keeps his ears tuned to his competition and forcing the best music out of him. Plain and simple, Poleon thinks he's the best violinist you'll ever meet since he has a knack for listening to what you play and playing it better than you would.
Considered one of the best folk musicians in Saint Lucia, Poleon has won the title of Best Violinist twice. In 2000, he received a Saint Lucia Medal of Merit (Silver) for his meritorious contribution to the folk arts. Earlier this year, he received an MBE (Member of the British Empire) for his sterling contribution to the arts.
The violinist's musical influences and legacy will no doubt continue to resonate, especially through his children, grandchildren and cousins, some of whom have followed in his musical footsteps. In fact, two of his grandsons and three cousins are members of folk band, AvotSevis. Two of his sons are also musicians.
Poleon said he has few lamentations. Among them is the "throwing away of our culture", which he attributed to not many people seeming willing to continue the island's rich traditions. In times past, he said, Saint Lucia was swarming with cultural groups intent on making a cultural statement about their Saint Lucian identity. That is hardly the case now, he told me.
Besides mesmerizing many with his music, the octogenarian did find time to raise a family, siring five children with his late wife who passed some years ago and another two from another relationship. Today, he shares his Belle Vue home harmoniously with some of his children and grandchildren who often get the chance to hear him play a few melodies on his old violin.
Tomorrow, Poleon will be featured at this year's Fete Kweyol En Belle Vue. The event runs from 1:00 p.m. to 10:00 p.m. and will be held at the Belle Vue Human Resource Development Centre. Also on the card will be performances from Gregory Sinaise, Chant A Fire, Wanjman, Third Degree, Belle Vue La Rose Group, Les Danseurs Traditionneles de Ste.Lucie and the DMQ Models. Headline act is folk group, AvotSevis. This might be your chance to see and hear the grandmaster fiddle his way into your hearts.
For this Creole Heritage Month, Poleon has a pointed message to all Saint Lucians: "I wish them well. I want them to stop some of the things they're doing now and live in unity."
Many Saint Lucian musicians who have heard him play still consider him the "King of Culture", a title he has held for many years now. So how does Poleon feel when he hears them say that? The quiet, unassuming Poleon's sense of humour is another of his remarkable qualities.
"Well, when they say that about me, it's not like they're lying," he responded when I posed the question to him.