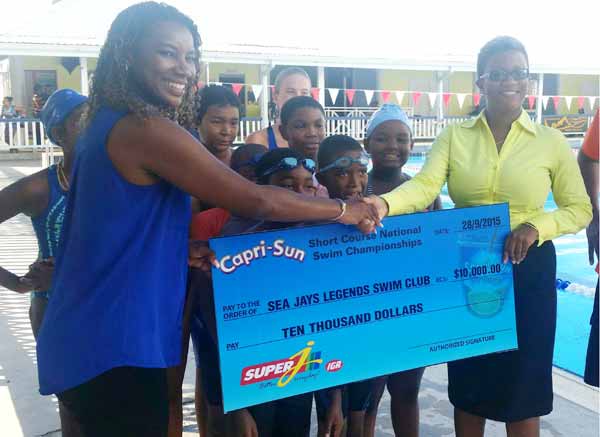 ALL of St Lucia's locally based competitive swimmers will jump into the pool during the October 9 to 11 weekend at the Capri Sun National Short Course Championship when they attempt to make the national Swim Team for the OECS Swimming meet in November.
The St Lucia Amateur Swimming Association has again expressed confidence in and drawn on the experience of the Sea Jays club to organize this important event to use as the selection time for the swimmers.
Capri Sun, through their agents in St Lucia, Consolidated Foods Limited have sponsored the National Swimming trials, this year being the 16th anniversary of the meet and having the distinction of being the longest running club organized local swim meet.
"Capri Sun understands the importance of sports in the development of youth. This is evident with their commitment as a title sponsor of this activity for the eighth year running. This year CFL has engaged other sponsors namely, Weetabix and Elle &Vire to assist the organizers to offset the rising costs of putting on this prestigious event", says SanchaRaggie, Marketing Manager at CFL.
The venue will be the Rodney heights Aquatic Centre.Competing in all age groups from 8 and under to the over 18 years, the swimmers will vie for national team selection to compete against the arch rivals Grenada, Antigua and St Vincent. Hosted in Antigua in November, the traditional fierce rivalry is expected to continue amomg the islands at this year's OECS Championships.
Apart from the locally based swimmers, St Lucia may have to draw help from the overseas swimmers to augment the local talent. Local clubs competing in the Championships are Sea Jays, Sharks, Racers, Lightning Aquatics, Southern Flying Fish and Sports Academy
Shortly after the conclusion of the Capri Sun meet, the Technical Committee of SLASA will convene to select the OECS team.