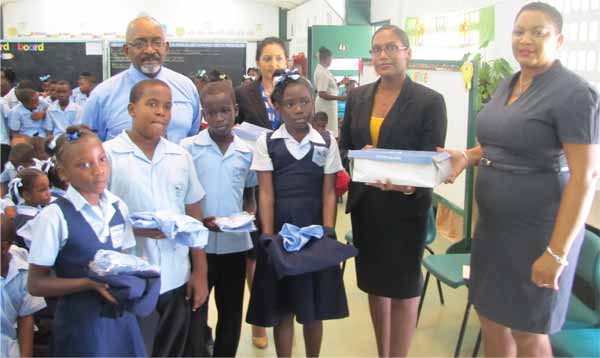 "SHAPING brighter tomorrows" – KPMG Eastern Caribbean's initiative to extend a helping hand to assist students of La Croix Maingot Primary School started with 30 students receiving uniforms and shoes.
The firm is also supporting school's feeding programme during the period September – December 2015. The event was held at the school's premises last Thursday. In attendance were the principal of the school Ms. Christine Norley, teachers, students and Frank Myers and his team from KPMG Eastern Caribbean.
KPMG Eastern Caribbean Partner, Myers said: "KPMG has a set of core values which require us to participate in the communities within which we live. It's not just about doing business but it's our responsibility to contribute as much as we can to the communities and help the communities grow. We think that given that education is such an important thing in the world this is a very good area for KPMG to get involved and it certainly is living up to one of the core values of the company."
Myers said it had come to the attention of KPMG that certain children in the school were lacking in some of the equipment it takes to go to school on a regular basis, and after a conversation with the school principal, the company decided to assist.
Ms. Christine Norley, mentioned that she is looking forward to continue a lasting relationship with KPMG.
It is the first such initiative by KPMG at the La Croix Maingot Primary School, but the company says it has provided other forms of assistance to other schools on the island.