By Kingsley Emmanuel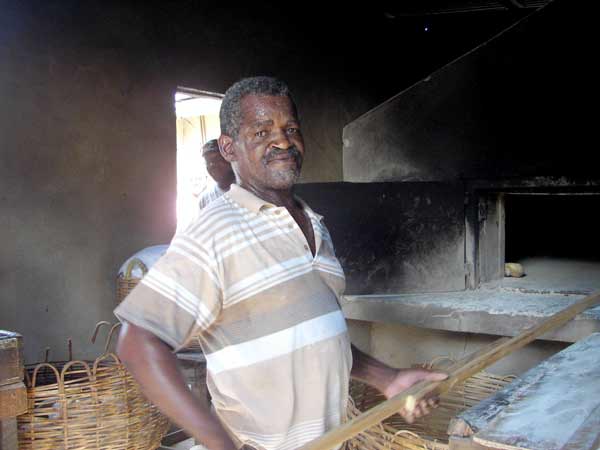 BAKING creole bread is hard work, but John "Baker' Johnny of Vieux Fort has a passion for it.
Johnny, who has been a baker for over 30 years, told THE VOICE that despite the difficulties of the trade, he enjoys it, although it is not the type of enterprise that can make one a millionaire.
"Baking creole bread is a very difficult job. It causes you to lose your sleep on a regular basis, and leaves you with pains in your muscles and joints. However, despite all this, I will continue to bake, until my body is unable to take the pressure…," Johnny said.
According to him, as a youngster his ambition was to become a mason, but after constantly assisting his mother to bake creole bread for sale, he developed a passion for the trade.
"At the age of 13, while attending primary school, I had to wake up around midnight to assist my mother bake creole bread…It was not easy for me. It made me sleep while in class on a regular basis." Johnny vividly recalled.
He said he was the only one assisting his mother at the time, because he was her only male child.
"I used to assist her to knead the flour, cut wood, clean the oven…and sometimes do other chores in the oven. It all made me very tired," he said.
According to Johnny, the family business, which is located at Cedar Heights, in Vieux Fort has made a name for itself over the years.
He said as the baker of the business, he was well aware that its success depended heavily on him, so he always ensured that he produced quality bread for his customers.
"We have a lot of loyal customers who can't do without our bread. They say our product is the best in Vieux Fort. Sometimes they flock the oven to pick up their supplies, even before I am finished baking," Johnny boasted.
He said he bakes approximately 5,000 bread (large and small) per day, and most times all of it is sold. He added that the bakery also produces cakes which customers enjoy.
Johnny, however, admitted that the business is now a bit more challenging than in the past, due to the increase in the prices of ingredients as well as increased competition.
According to him, the most difficult part of baking is what he enjoys the most.
"I love to knead the flour…It's not easy kneading flour for many hours per day, but I get much enjoyment from it," he said.
He added: "Because of the amount of heat you have to bear in a day, you have to be careful what time of the day you take a bath. Baking creole bread can be very dangerous if you don't take care of your body," he explained, beads of sweat pouring down his face, as he prepares the oven.
He said his daily routine as a baker is a rigorous one and calls for some degree of dexterity.
"My work as a baker starts about 3.00 a.m and ends about 5. 00 p.m. You have to be on your toes, if not all your bread will burn like coals. You have to be fit to do that line of work" he said.
According to Johnny, the only time he feels a bit disappointed is when all his bread is not sold.
"When all your bead is not sold, it makes you think…..When you invest thousands of dollars into a business and at the end of the day you do not make a profit, it sometimes gives you headache," Johnny said.