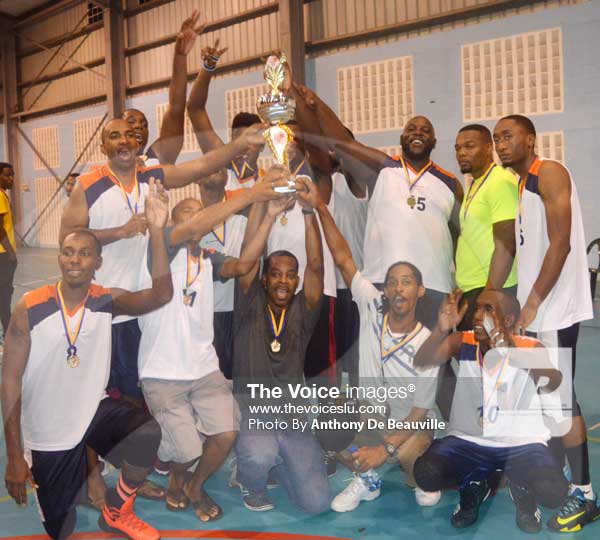 THE Goddard Group lifted the Commercial League Basketball title last Saturday with a 66-53 win over Sandals High Risers at the Beausejour Indoor Facility.
What a night it was!. Available parking was limited and spare seating was non existent as a record number of fans and supporters came out to support their favourite teams.
Before the highly anticipated finals Teachers Unions and IRD Hustlers played for third place.. From the opening tip, the IRD Hustlers dominated the teachers with an aggressive up-tempo style, which enabled them to jump to 22 to 10 lead at the end of the first quarter and never looked back.
The dynamic duo of Ron Dumurville and Keegan Preville were just too potent of a combination for the teachers and cruised to a comfortable win 60 – 44 at the final whistle.
The KFC player of the game was Ron Dumurville who poured in 21 points, 6 rebounds, 4 assists and 5 steals. His running mate Keegan Preville chipped in with 18 points, 21 rebounds, 6 assists and 6 steals. For the Teachers, Glen Antoine contributed 10 points and 13 rebounds in the loss.
It was now time for the game everyone was waiting for-the finals between Sandals High-Risers and Goddard Group. There was pandemonium at the BIF as fans from both teams could not contain their excitement. Ahead of the game, an unofficial poll conducted among fans indicated that Sandals would prevail over last year's runner up Goddard Group.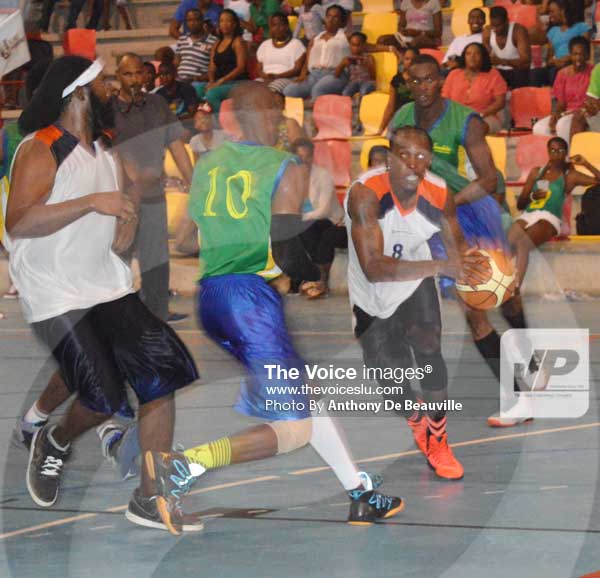 It was now time to see if the predictions were accurate! As if aware of the poll results, the Goddard group pounced on the Sandals High Risers and at the end of the first quarter led with a commanding 24 – 4 run. The Goddard faithful were drunk with excitement whilst both Sandals players and fans seemed shocked and unprepared for the furious onslaught led by Ali Quinlan who finished with 21 points, 4 rebounds, 4 steals. It appeared that the CBL championship would be a blowout.
However, like any good team in basketball Sandals weathered the storm and mounted a furious comeback-out scoring Goddards in the second and third quarters. Going in the fourth quarter Goddards were clinging onto a 3 point lead.
With the final quarter and the championship to play for, it was game on. National league standout, Andre Louison then decided to put the team on his shoulders in the final stretch and sealed Sandals fate-pulling away to a 66 – 53 win to the delight of the Goddards supporters.
Louison was player of the game finished with 31 points, 14 rebounds, 4 assists and 4 steals. For the gritty Sandals High-Risers Ricardo Sayers chipped in 10 points, 5 rebounds and 5 steals in the loss.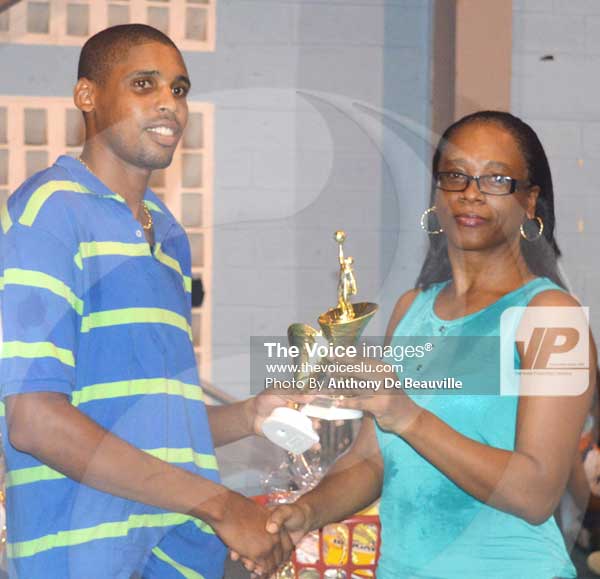 Following the showpiece on centre court a brief closing ceremony was held. Among the awards: Most Points – Ron Dumurville (IRD Hustlers), Most Rebounds – Keegan Preville ( IRD Hustlers), Most Steals – Andre Louison ( Goddard Group), Most Assists – Keegan Preville (IRD Hustlers), MVP Regular Season – Keegan Preville ( IRD Hustlers), MVP Finals – Andre Louison, Most Supportive Commercial House – IRD Hustlers