Church Service, Cultural Activities To Be Held in the Capital.
SCHOOL children and members of cultural groups from across the island will assemble in Castries today for the observance of La Marguerite, one of Saint Lucia's two flower festivals.
A church service at the Minor Basilica of the Immaculate Conception from 9:00 a.m. will begin the day's activities. The mass will be conducted by Fr. Cecil Goodman, with musical accompaniment provided by a folk music group and vocals by former calypso monarch, NintusMagre. Presentations will also be made by other cultural groups as well as bidding prayers for culture, the nation, the sick, the youth and the church.
Following the church service, the various groups will parade through downtown Castries and then assemble in Derek Walcott Square where presentations will be made. Among those expected to make presentations are Monchy Primary School, Ave Maria Primary School, TiRocher Primary School, Gros Islet Primary School, as well as cultural groups from DerniereRiviere, Soufriere, Dennery, Laborie, Aux Lyons and Vieux Fort.
Today's activities are being organized by the Cultural Development Foundation (CDF) which has over the years made attempts to reinvigorate interest in the island's flower festivals.
In his article, "Saint Lucia's Flower Festivals", published in The VOICE (August 26, 2008), former Director of Culture, Jacques Compton (deceased), gave an account of the island's two flower festivals – La Marguerite and La Rose. According to Compton, while the origins of both festivals are not known, the first record of them was made by Henry Breen's "A History of Saint Lucia" in 1844.
Breen wrote about a revival of the festivals between the period spanning 1839-1844, clear evidence that their existence predated that period. He also wrote about the hierarchal structure within each of the flower festivals, including kings, queens, princesses, princes, chanterelles, and so on.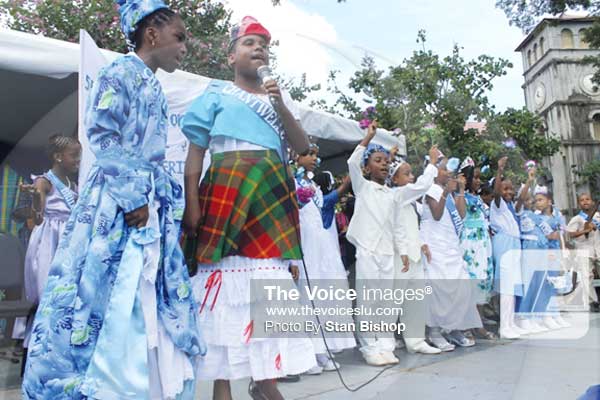 La Rose is celebrated on August 30 each year and La Marguerite on October 17. Breen spoke about the war of words that existed between the two camps, expressed principally through songs and séances where effigies of each camp's societal order are ridiculed. Nevertheless, Breen wrote that he had "always seen the greatest order and decency throughout" the celebrations he had attended.
Despite the obvious war of words that exists between the two factions, la Marguerite and La Rose have both played a major role in developing Saint Lucian communities and way of life. For example, séances held are usually done so as to raise much-needed funds for specific purposes. In fact, Breen wrote about the flower societies raising funds to either erect or decorate many of the island's churches. Above all else, they both foster a deep sense of unity among the communities.
Characterized by its purple or blue colours, which are portrayed especially in the clothing worn by its followers, La Marguerite – like La Rose – has become a symbol of Saint Lucian identity. This despite the fact that La Marguerite's following seems to fluctuate over time, especially among the youth.
Folk violinist, Augustin "Charley" Julian, the owner/director of the popular folk band, Manmay La Kay, says the erosion of the self-reliance that played a key part in La Marguerite's principles is partly to blame for the virtual lack of interest in the festival. Since government began allocating an annual subvention to the festivals a few years ago, he says, that self-reliance has practically disappeared.
"I blame the people who are in La Marguerite and let it die," Julian told The VOICE this week. "It's not the government that caused it to die; in fact, government was helping the festival by giving an incentive to it."
Julian's mother, Elfrida, was a La Rose queen and quadrille dancer back in the day. His father was a musician who played the accordion. Two of his two brothers were born on August 30 and October 17 – the feast days of La Rose and La Marguerite, respectively.
Clearly, the challenges La Marguerite continues to face might be around for quite some time longer. Nevertheless, the hope is that as each new flower blooms, this tradition will continue for generations to come.