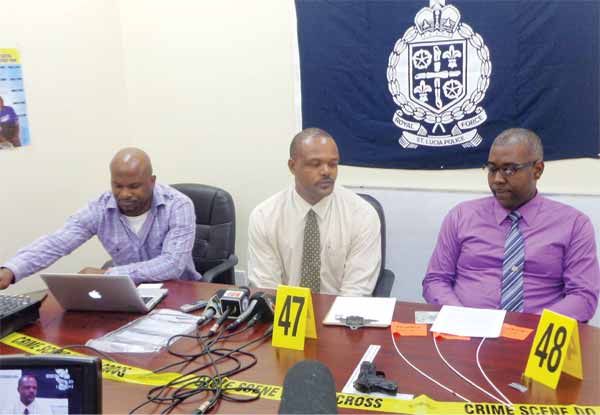 POLICE are speaking out against the meddling of crime scenes by members of the public, and have started a series of public service announcements as part of a sensitization and awareness campaign, aimed at educating citizens about the importance of preserving the scene of a crime.
The announcements were revealed on Tuesday and are to be broadcast on radio and television.
SargeantShervon Matthew of the Major Crimes Unit admitted that crime scenes have been interfered with by members of the public "a lot of times", making it difficult for investigators to collect evidence.
"It has been and is a grave concern for law enforcement personnel, the issue of crime scene security and preservation," Matthew said.
He added: "When a crime occurs, securing the scene is the first order of business for the responding officer in order to ensure that there is no loss of physical evidence, which are clues in piecing the chain of events that have occurred for a successful investigation.
"However, most times when crimes occur, citizens are the first persons on a scene and no care/attention is taken with regard to security or loss of evidence. As a result evidence is easily lost as persons accidentally or intentionally disturb the scene. This, of course, is due to a lack of knowledge on the part of citizens and we have sought to help to minimize crime scene interference through public awareness and education," Matthew said.
The campaign to bring public awareness to the preservation of crime scenes began in July of this year and took the form of radio and television interviews, school visitations and the distribution of bookmarks with simple tips for the general public on how to safeguard themselves when encountering a crime scene and how to protect a crime scene.
"The effort thus far has been a tremendous success," Matthew said.
A number of radio personalities and music artistes have combined to make the announcements appealing. Investigators are hoping that this would help spread the message of crime scene preservation even further.
Meanwhile, police are calling on the public to call emergency numbers 911 or 999 in case of a crime and stay as far away as possible from the crime scene, unless medically trained. The reason, they say is that police and medical emergency technicians are able to minister life-saving techniques to potentially prevent death. They say that interfering with a traumatized/wounded victim can hasten death if the individual is not handled properly and professionally.
Police are also advising the public to stay away from blood or bloody scenes because blood and other fluids contain potentially infectious disease-causing micro-organisms which can infect an unknowing bystander. These infections include Hepatitis B, Hepatitis C and HIV.
They are also calling on citizens to keep others away from the crime scene because the safety and protection of persons cannot be assured until the police arrive.
Other health and safety measures noted by the police are for the public to keep outside the cordon that is set up around a crime scene as it protects the scene and protects the public from the hazards of the scene; avoid approaching a scene involving gunfire in that perpetrators may be lurking around and civilians may end up being victims as the perpetrator may target them.