OVER $80,000 was paid out by Blackheart Productions last Friday evening at its prize giving ceremony for the recently concluded knockout tournament.
The monies paid out covered goals scored, transportation and prize monies for teams which participated in the tournament as well as the sanction fee to the St. Lucia Football Association for staging the tournament.
Among those taking home big money was the Micoud Football League whose team won the tournament. They went home with $26,450.00. Dennery who finished second took home $12,050.00. Canaries was third and they collected $6,550.00 while fourth place Soufriere collected $3,600.00
Some of the tournament's many sponsors were specially recognized for their contribution towards making the tournament a tremendous success this year.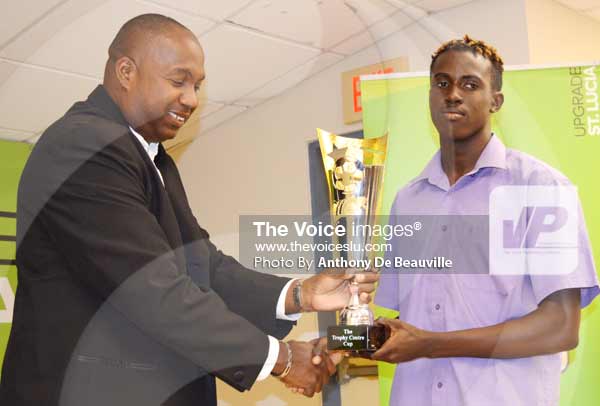 The following individual and team prizes were presented on the night :Most outstanding young player – Ridel Stanislaus of Dennery, Best Manager- Andre Charlery of Micoud; Best Coach – Cornelius Butcher – Micoud, Fastest goal scored Shadrach Henry of Marchand in the first minute of the encounter versus Central Castries; Best Dressed team – Central Castries, Most spectacular goal – scored by Ridel Stanislaus of Dennery versus Canaries in the semi final at the Phillip Marcellin Grounds, Best goal keeper – Noah Didier of Micoud; Best Defence player – Travis Thomas of Micoud; Best midfielder – 16 year old Antoine Wilfred of Canaries, Top Goal Scorer: Ridel Stanislaus of Dennery; Fair play trophy: Soufriere; Tournament MVP- Goal Keeper Noah Didier of Micoud.