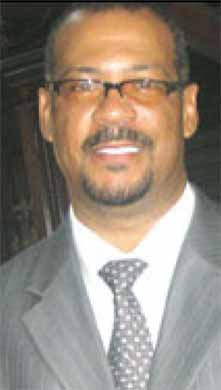 THE return of former United Workers Party (UWP) Parliamentary representative Rufus Bousquet to elective politics in Choiseul is meeting with resistance from party followers.
A group calling itself "The Choiseul/Saltibus Supporters of the United Workers Party" issued a statement yesterday saying they were "very concerned" about that development.
The group has so far held two meetings by invitation to discuss Bousquet's reappearance on the political scene and had collected nearly 200 signatures by press time yesterday after two days of canvassing to attach to a petition to be sent to the party, objecting to Bousquet.
Spokesman for the group Jimmy Haynes told the VOICE yesterday that although his group was not the official UWP Constituency branch, some members of the branch had come out in support of the group's mission.
Bousquet has announced his intention to contest for the branch's chairmanship and there are reports that he wants to contest the seat again for the party
The statement said that since Bousquet's entry as a candidate of the UWP for Choiseul/Saltibus in 1992, these supporters had stood by him in the good times and in the bad times.
These supporters said they had stood by Bousquet through thick and thin from the first time he contested elections in1992. They said:"We stood loyally by him when he was dismissed as a member of UWP Cabinet in 1995 and again in 2007 by Sir John Compton. We stood loyally by him after he officially notified the Governor General of the withdrawal of his support from former Prime Minister Stephenson King in 2008. We stood loyally by him after the revelation of his multiple name changes. We stood loyally by him after learning of his criminal record and his incarceration in the USA. We stood by him even after he referred to his colleagues as being members of a mongoose gang. We stood loyally by him during his battle with cancer during the 2011 election campaign. We fought tooth and nail by his side for five consecutive elections.
But they said recent events had confirmed their worst fears "that Mr. Rufus Bousquet has not changed and that he will not change. It has confirmed beyond any doubt that Mr. Rufus Bousquet is not a team player and his return to elective politics serves only to create discord within the United Workers Party supporters in Choiseul/Saltibus."
They said Bousquet's recent pronouncement on a radio show that he will not work with the elected Political Leader of the UWP "brought back the shame we felt when he was fired twice by Sir John Compton and when he almost singlehandedly toppled the UWP administration as he selfishly fought to regain a ministerial portfolio. Further, Mr. Bousquet's statement on a national media house where he referred to United Workers Party as a mongrel party is obnoxious and totally unacceptable. Enough is enough. We can no longer stand by Mr. Rufus Bousquet".