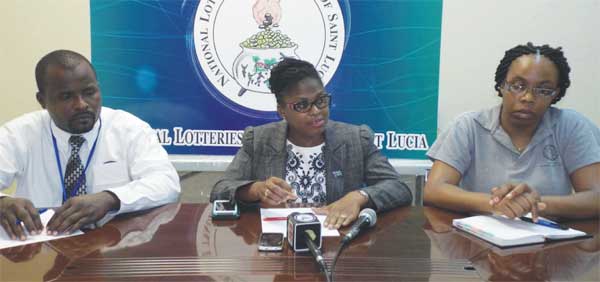 IN a collaborative effort, the National Lotteries Authority (NLA), the National Youth Council (NYC) and the Ministry of Youth Development and Sports are set to host a one day workshop for the nation's young debaters for the preparation of the third annual National Debate Championship.
JadiaJn Pierre-Emmanuel, a director of the NLA said the workshop will be held today from 10:00 a.m. – 2:00 p.m. at the Sir Ira Simmons Secondary School and has issued a call for all interested young persons to come along and be part of the movement to exercise their debating and public speaking skills.
Jn Pierre-Emmanuel said: "It is our view that at the end of the activity that we do not simply boast the hosting of a successful activity by what the usual yardstick will be, but as our mandate dictates that we work to develop the talent of our young persons. We want at the end of the day that we have made a positive contribution and as a result of the efforts of the NLA, we have better public speakers, better debaters and in general, better youth in St. Lucia."
Previous competition participants including last year's champions from the Gros Islet community will be present as well as members of a core group of local debaters.
The objective of the competition and its analyses will be reviewed.
The NLA is not only funding the workshop but is also integrally involved in the preparations for the competition.
Another director at the NLA, Larry Andrew stressed the importance of enhancing the debating skill of the nation's youth.
He said: "You'll find that a lot of the times persons get into arguments, there's not that constructive debate where persons could dialogue, disagree, agree to disagree and then come to an amicable solution so the whole debate structure I think is going to augur well for the young people in our communities."
NYC representative Dianthea Justin said that her organization will be arduously fulfilling its role in ensuring mass participation in the event.