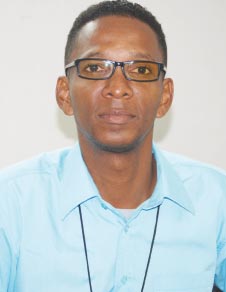 NO one likes having unsightly clutter around, especially after a grand occasion where empty bottles are strewn all over the place. As soon as the party's over, it's time to get all those unwanted empties into garbage bags and send them on their merry way to the landfill. But as artist Gary Butte sees it, one man's trashcan of empties can become his next customer's prized possession.
Butte, 37, has been specializing in hand-painted bottles for quite some time, turning empty liquor bottles into eye-catching works of art. The empty bottles come in many shapes and with many names — Chairman's Reserve Rum, Ponche Caribe, Bounty Rum, Campari, Mount Gay Rum – you name it. But what Butte is able to do with those empties will earn your full appreciation for art.
"I transform them into creative pieces," Butte told me at a recent exhibition where he plied his ware. "The thing about it is that when I'm done hand-painting these bottles into works of art, many people don't even recognize that these were actually empty bottles that got thrown away by the wayside."
The Bishop's Gap, Castries resident said he started hand-painting bottles right around the time he took up painting as a profession over a decade ago. He initially took up hand-painting as an experiment using a technique referred to as "sand on bottles", which involves using sand as a base and a primer over it. After much success with the genre, he took a break from it to concentrate more on his painting and teaching jobs. But in January this year, he was back to hand-painting the artistic expressions he had long bottled up.
"I felt I couldn't simply rely on just selling paintings when there's another part of my creative expressions that I needed to let the world know about," Butte explained. "This time around, I came up with a new concept that entails using burlap twine and heavy body acrylic paints on the bottles to give them a very great texture and finish. I also use spray paints and a special sealant."
Butte said the trendy bottles are excellent gift ideas and can be used as decorative items in homes and offices: for kitchen countertops, bedrooms, bathrooms, desktops, coffee tables and living rooms. He makes a wide variety of styles for customers to choose from and also caters for custom-made orders. In fact, you can even give him your empty bottle and he will create something beautiful and unique for you. There seems to be no bottleneck in his business plan when it comes to pleasing his customers.
"It is a very unique style. I have seen many hand-painted bottles but mine seem to blow everybody away. People can't imagine how an inexpensive bottle can go up in value with just the right touch of paint," Butte said of his craft.
The artist said he tries to create different styles so as to keep the ideas fresh and the customers interested. It's also a very time-consuming occupation because it takes about a day for him to create a pair of bottles. When he's on commission, he does about two pairs a day. It takes time and is a very delicate process, he said, but he thinks the hard work is worth it.
Butte recently started a small business, GK Creations, which he runs with the assistance of Kylie Francis, who is also involved in hand-painting the bottles. The two have been working well together for the past six months.
Butte said he faces a major challenge: marketing. He acknowledges that since the business is relatively new to the market, gaining customer confidence and getting the word out might be an uphill battle for now. Nevertheless, he believes that can all change through the trendy messages in his bottles.
"I'm hoping that by next year we would have put all the logistics in place to ensure that we market our hand-painted bottles not only in Saint Lucia but overseas as well," Butte said.
The price range for Butte's decorative bottles runs from $60 to $150. However, custom-made orders may attract an additional cost depending on the level of intricacy being requested and the turnaround period involved.
Butte believes that by creating artistic pieces that make people take a second look at empty bottles, he's also doing his part to keep the environment green and sustainable. That's why he's also ready and willing to accept any of your empties – all in the name of conservation and promoting great art.
"My advice to people would be to learn how to recycle what you have rather than just throwing it away," Butte said. "The very thing that you think is useless can become a very valuable item once you find a way to make it happen. A little creativity can go a long way."
To place your order, you can contact Gary at 520 3010 or Kylie at 716 8512. You can also send them an email at gkcreations2015@outlook.com.