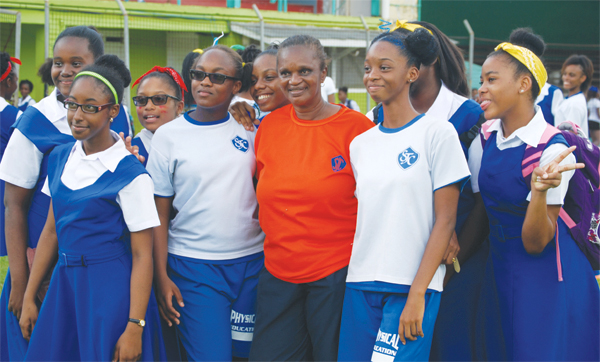 IT is never easy for one to say goodbye to a loved one who's migrating overseas, has reached the retirement age or by extension say thank you for the many years of dedicated service.
From my vantage point it was pretty evident when a beloved teacher who is on the verge of retirement can have life pause for a moment and that was the atmosphere at the end of St. Joseph's Convent annual sports meet held recently at the Mindoo Phillip Park, as students flocked around one who has contributed tremendously to their development.
Principal Sister RufinaDonat said: "Today will be a very significant and memorial one for us here at SJC. We have travelled a long way with our coach and head of Physical Education, Mary Ann Montoute. She had a vision for sports at SJC and today we are reaping the benefits".
She continued: "The standard and quality surpasses every other when we speak of Secondary School Sports and I commend her for her dedication and hard work. Bravo Mrs.Montoute! May those who will come behind follow and continue to improve on standards that have been set.
"To you girls, you have a teacher who has set an example for you to follow. There is no space for mediocrity. A true athlete will face the track with vigour and determination aiming always to improve".
The former national netballer and Sportswoman for the Year 1974 spoke to The VOICE as she prepares for a gala send off.
VOICE: Today it was mentioned that you will be doing your final lap of honour as Head of PE at SJC, tell me how if feels hearing the announcement.
Montoute: To tell you the truth, it is bitter-sweet. It is a lot of hard work to be a PE teacher, bitter because I am leaving the students whom I love very much, but I will always be part of SJC".
VOICE: For the number of years that you have been at SJC tell me some of your memorable occasions.
Montoute: I have been at SJC I have seen athletes grow, the likes of JeannelleScheper just waiting for her mother to pick her up after school and I encouraging her to go the Mindoo Phillip Park to train with the school team, because I felt she had potential. Eventually I spoke to her mother and she was able to come to the MPP to see her daughter train and pick her up afterwards. Seeing where she has reached has given me a lot of joy.
"MakebaAlcide, she started at the Ave Maria School, but through my continued encouragement she was able to go far. At one time I told her she should be able to putt the shot and after doing it and getting good scores she became a Heptathlete. Last year she won senior female Athlete for the Year at the national awards".
VOICE: Fourteen years at SJC, which one do you consider being the best year ever?
Montoute: All the years have been great, except for the first year when rain washed out the sports meet and we had to improvise".
VOICE: SJC is the first school off the blocks for the 2015 inter house schools sports meet. What do you think about today's event in terms of the level of competition?
Montoute: "I find today was great although the condition of the field was not the best. I find the athletes came out and showcased their talent for their respective houses. The final score will show that Maria Goretti emerged as champion. Being the first school to host inter house for 2015 it gives us enough time to prepare ourselves so we can defend our title at the inter secondary track and field championship in March at the BCG".
VOICE; You are a former national netballer, Sportswoman for the Year 1974, certified netball umpire and PE teacher, quite a list of achievements on and off the court. Your words of advice for the young and aspiring sportswomen in St.Lucia?
Montoute: " I would advise them to give of their best, do not settle for mediocrity and always remember there will always be one winner. But participation is the key".