UNPRECEDENTED in the 29 year history of the Atlantic Rally for Cruisers, the ARC Course Record has been broken for a second consecutive year following ideal trade winds sailing for the largest trans-ocean rally.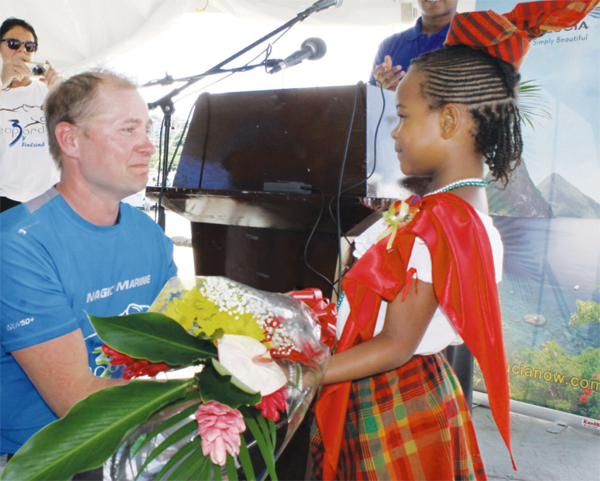 "Leopard by Finland" crossed the finish line in Rodney Bay St. Lucia early Wednesday morning at 12:33 a.m. local time smashing its own ARC Course Record by 2 days 6 hours 45 minutes and 19 seconds, set last year.
The new record set to St. Lucia is now 8 days 14 hours, 39 minutes and 51 seconds.
The 10 Finnish adventurers alongside "Leopard's" regular 'pro' crew headed by skipper Chris Sherlock, celebrated successfully completing the 2,700 mile course..
The project was the brainchild of SamuliLiesti and his friends who have been passionate about bringing Finnish sailing to a wider audience and increasing the profile of the sport. Mike Slade's 30 metre (100ft) canting keel super-maxi was chartered for the attempt and rechristened "Leopard by Finland". Liesti then recruited a crew combining some of Finland's sailing superstars, such as Whitbread veteran and two-time Finnish International Sailor of the Year Kenneth Thelen, with Atlantic novices who had not experienced crossing an ocean before.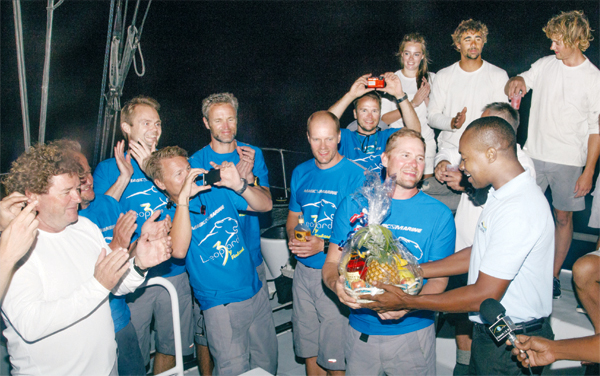 At a brief welcome ceremony held during mid morning yesterday Minister of Tourism Lorne welcomed the sailors on behalf of the government and the people of St. Lucia to welcome you to sweet simply beautiful St. Lucia. He said: "My understanding is that you had many reasons to set a new record and one of them is that you heard of the distinct beauty and the pleasures that are available on our island so you decided to get well ahead of the team. I want to congratulate you for such an accomplishment and I want to further invite you to see to it that you beat this accomplishment in the coming year by participating in ARC 2015."
He continued, "I hope your stay in our lovely island is indeed pleasurable. There are many things to enjoy in St.Lucia and whilst you are here I hope you take in as much of the adventure".
She was only introduced by St.Lucia Tourist Board Public Relations Manager John Emmanuel as Zoey and for her tender age she certainly warmed the hearts of those present including the 22 members of "Leopard by Finland" with her sweet voice when presenting the captain with a bouquet of flowers, she said: "On behalf of the people of St. Lucia I welcome you to St. Lucia Simply Beautiful".