TODAY'S face in the crowd is like the living, breathing Grim Reaper except, he doesn't collect souls, just the bodies that they once occupied.
Randy Lewis is a quiet 25 year old who has invested his time and married his introvert personality to his job as a mortician at Rambally's Funeral Parlour.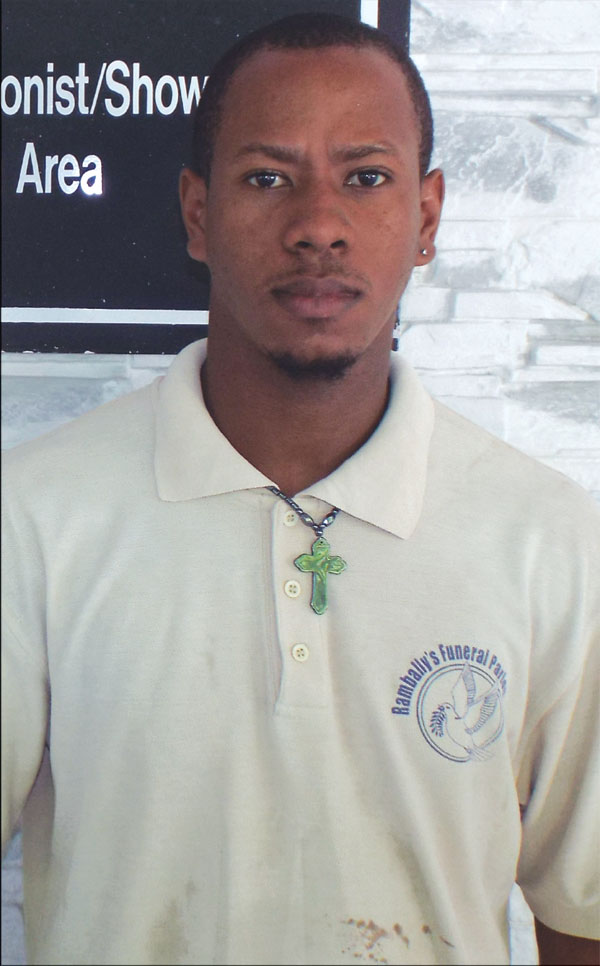 The youngster who hails from Grande Riviere, Dennery has maintained an outlook of sheer bravery that blocks out the bleak reality of his line of work. Randy who says his life is just work and home with the odd party on the weekend said it's a job that only few can do but is not as difficult as it seems.
The VOICE: Tell me about your job as a mortician.
Randy: The work I do, we pick up bodies from wherever they are and refrigerate them. At the funeral home we remove them from the sheets, bathe them properly, sanitize them, dress them. We stuff them…the nose and mouth etc. We make sure everything is clean so there are no smells or anything like that. That's why we block every hole in the body.
The VOICE: For how long have you been doing this job?
Randy: I've been with the company for three years now.
The VOICE: Talk me through your daily process.
Randy: Normally, when there's a sudden death, the police calls us. We get the location etc. When we get to the scene, we have to wait sometimes because Crime Scene Investigators must do their job first and sometimes we do arrive before they do. The procedure in those cases, we must bring the bodies to the nearest health centre or hospital so that the person can be officially announced as dead and then we bring them to the mortuary.
The VOICE: At such a young age, why would you even consider doing this job?
Randy: When you do a job like this one, it's all in the mind. You have to be brave.
The VOICE: Tell me about your experiences on the job.
Randy: My very first day on the job, I was sent out to collect a decaying body in the Bagatelle area. The police called us over and when I arrived on the scene, it was a decomposed body. I wasn't afraid to go because after all, this is the job that I wanted to do. I just went bravely and even told the other guy that I want to be brave.
The VOICE: What has been your worst experience so far?
Randy: The decomposed body was a tough one to deal with but my worst experience was when I went to collect a chopping victim. His head was chopped up, his feet… it's not something I wanted to see but it's something that I had to face and go through.
The VOICE: Do you and your colleagues get counselling sessions to help you cope with such a gruesome job?
Randy: No, we don't. I just go over everything in my head and say to myself that it's just a normal body like those at the hospital that I've just dropped off…it's normal. I don't feel any way.
The VOICE: In that case, do you guys get nightmares or get worrisome?
Randy: (Laughs) No, well I don't.
The VOICE: Okay, well then how do you manage to eat and hold your food down?
Randy: I have no problems eating. I just have it in me.
The VOICE: In cases where you go to the scene of a homicide, do you ever worry about your safety?
Randy: I always say to my colleagues that we should be fearless. If we go to the scenes of shootings etc. we must always remember that it wasn't us who did the killing so we shouldn't worry. We go out there and do what we have to do and that's it.
The VOICE: When you see these bodies, especially victims of homicide, how do you feel about them?
Randy: I feel sorry for some but it's an experience, especially in suicide cases. It's an experience for everyone involved. We know death and we don't wish it on people.
The VOICE: Does your job affect your day to day relationships with people in general?
Randy: It does somewhat. People ask many questions like how do I sleep, eat etc. Some are afraid of you and don't want you to come near them since you've been around the dead but it's not like the dead can do anything to you. I deal well with everyone..
The VOICE: What would you say to someone considering this job?
Randy: The very first thing I'd say to them is that this job is not difficult. It's a cool and quiet job and is nothing bad. For the worst, you will find a chopped or decomposed body and sometimes an accident victim but it's nothing that's too bad. You just have to be brave.
The VOICE: What are your feelings on death as a whole?
Randy: When we get the calls, we pray for safety and guidance on the roads but I'm in it for three years now and I know how it is, I see how it is and I could feel how it is so I'm just waiting for my turn.