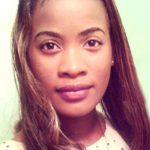 Allana Maximin is a freelance writer hailing from the west coast of the island. Known by her peers as the girl with an overactive imagination, Allana is extremely passionate about anything to do with writing.
She spends her free time writing poetry, short stories and now "The Real Rundown". Allana has used her writing to inspire others, especially those who have been abused and also those suffering with anxiety disorder.
Allana considers herself addicted to the arts. Besides writing, she also enjoys fashion design, singing and running her modelling agency. When she isn't doing these, she is raising her son and also making steps to become an Early Childhood Educator.