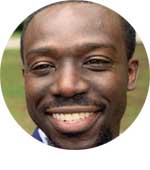 I was watching a television show in which the computer systems of a police station were hacked preventing communication between the command tower and the SWAT team making it impossible for valuable information to be relayed to help ensure a successful mission. It dawned on me that this was a good picture of our situation on earth. Rather than reflecting the holy character of our Creator, we resemble the corrupted programming of the enemy who uses the lust of our flesh as leverage against us. This programming causes us to reject the efforts that the heavenly command team (the Godhead) makes to rescue us. James 1:15 states: "Then when the illicit desire has conceived, it gives birth to sin; and when sin has run its course, it gives birth to death."  Our only hope is to receive a new program which can only happen through a Divine intervention.
In 1 Samuel 3:1-10 the priest Eli was approached by the young Samuel several times after he mistook Eli's voice for the Lords. Verses 9 and 10 describes what happened after the third time Eli was approached by Samuel: "So Eli said to Samuel, 'Go, lie down, and it shall be that if He calls you, you shall say, 'Speak, LORD, for Your servant is listening.' So Samuel went and lay down in his place. Then the LORD came and stood and called as at the previous times, "Samuel! Samuel!" Then Samuel answered, 'speak, for Your servant is listening." It's easy for us to marvel over the union Samuel had with Almighty God as a mature prophet but let's take note that it started with him learning to recognize God's voice from all others.
The father of lies is strategic in his efforts to prevent us from hearing the Lord's voice. Revelation 3:20 paints the picture of the Son of God calling out to us: "Behold, I stand at the door and continually knock. If anyone hears My voice and opens the door, I will come in and eat with him (restore him), and he with Me." We oftentimes find it hard to hear the knock at the door because of the company of opposing voices (philosophies, beliefs, opinions, etc.) that are occupying the living room of our minds. The late Ellen White expressed a comment worth sharing regarding this: "When the heart is emptied of self-importance, the door will be opened to Christ because you will recognize His knock. But unless you clear away the rubbish that keeps the Lord Jesus out, He cannot possibly enter; for He forces no entrance."
The Holy Spirit is committed to saving us from Satan's hypnotic stronghold. In order for us to be liberated from the lies of the enemy we have to have an encounter with the truth of God, about God and from God. The Lord spoke directly to Samuel and the prophets, Jesus spoke directly to His disciples and the Holy Spirit speaks directly to us today. John 16:13 says: "But when He, the Spirit of Truth, comes, He will guide you into all the truth [full and complete truth]. For He will not speak on His own initiative, but He will speak whatever He hears [from the Father—the message regarding the Son], and He will disclose to you what is to come [in the future]." If we are to be born again as described in John 3 then we have to be taught again. Our Savior Jesus was quoted in Matthew 11:29 saying: "Take My yoke upon you and learn from Me [following Me as My disciple]…". We have to learn righteousness in order to live it. Before the work of grace upon us we were managed by the passions of the flesh but after being reconciled to God we govern ourselves under the management of the Holy Spirit and are made partakers of the Divine nature (2 Peter 1:4). This renewing of mind and character is the work of a lifetime. The Godhead gives us new desires and principles to live by and we continue to grow into His likeness as long as we align our wills with His. Step by step, choice by choice. 2 Corinthians 5:17 declares: "If anyone is in Christ they are a new creation…" The Holy Spirit makes the written word practical and teaches us to apply it in our daily lives. As we focus on His leading and obey his directions we are changed into His likeness.
Closing prayer: Father in heaven, please teach us to be teachable by Your Spirit. In Jesus' name, amen.
Feel free to email questions, comments and prayer requests to: newcreation7099@gmail.com