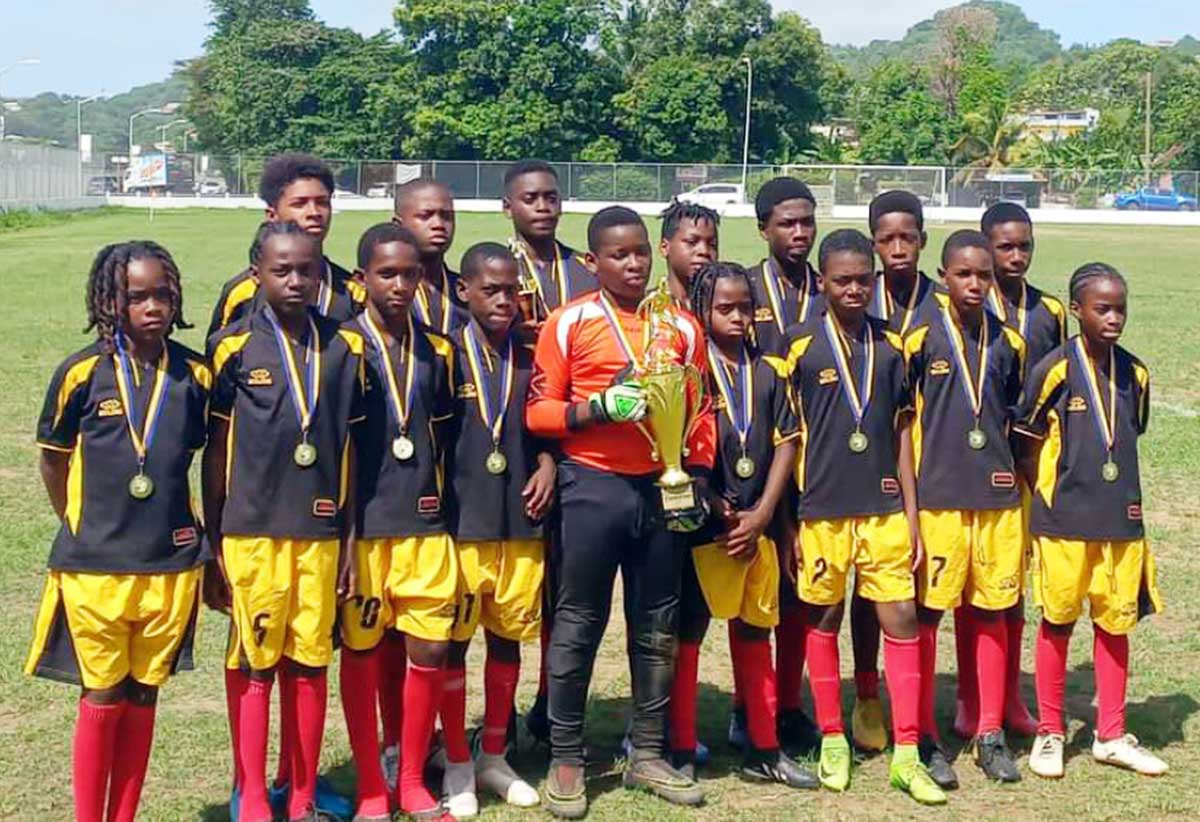 Soufriere Primary outplayed Richfond Primary in an exciting final to emerge winners of the Primary Schools'Football tournament organized by the Ministries of Youth Development and Sports and Education in collaboration with the Saint Lucia Football Association [SLFA] Inc. at the SAB Playing Field, Monday (June 5).
According to the organisers, it was a long-awaited encounter that provided lots of excitement and intrigue as they finalists went toe-to toe against each other in a nail biting affair.
With staunch vocal support from their fans, Richfond Primary took the lead in the 21st minute with a goal from Keshawn Ermay.
However, a rejuvenated Soufriere team hit back with   Lyon Griffith and Armani Didier converting off two separate spectacular spot kicks in the 34th and 43rd minutes respectively.
Richfond came close to equalizing several times, but some fine goal keeping kept them at bay.
At the final whistle, Soufriere walked away with a convincing 2-1 victory.
In the third place play off between two westerly coast neighbours, Anse La Raye Primary dug deep into their reserves to edge past Canaries Primary 4– 3.
Anse La Raye's goal scorers were Juan Frias with a brace from goals in the 22nd and 38th minutes, Giovanni William 40th and Jayvon Charles in the 43rd minute.
Scoring for Canaries were, Shawnil Deterville an own goal in the 4th minute and Amari Sammy and Caison Cadette in the 36th and 55th minutes respectively.
At the post match awards presentation, the following awards were presented:
Best forward – Armani Didier – Soufriere Primary
Golden Boots Award – Daijan Charles – Desruisseaux Combined
Most Outstanding midfielder – Keshawn Ermay – Richfond Primary
Most Outstanding defender – Kendal Jones
Best Goal keeper – Raynelle Joseph – Soufriere  Primary
MVP – Keyshawn Ermay – Richfond Primary
First Place – Trophy & gold medals – Soufriere
Second Place – Richfond – Trophy & silver medals
Third Place – Anse La Raye – Trophy & bronze medals
Fourth Place – Canaries – Bronze medals.
Special Recognition for contribution to female football – Kayka Polius.