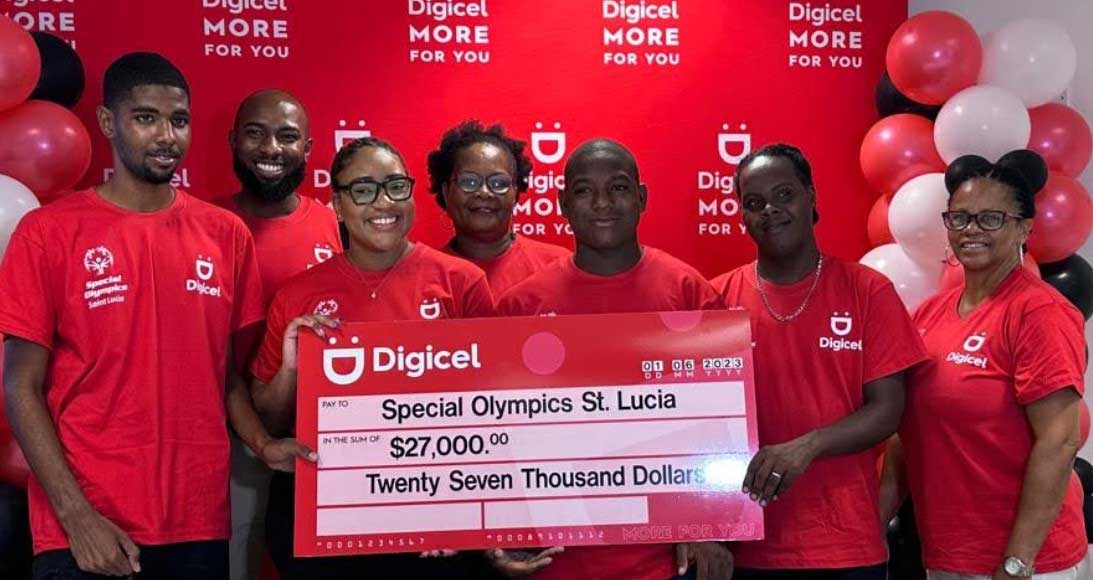 The Special Olympics Saint Lucia team is in full preparation mode as they ready themselves for the 2023 World Games in Berlin. With Digicel's support, the 11-member team will be heading to the games in June.
Across the Caribbean, preparations and send-off activities will be taking place as the teams' countdown to the upcoming games. In Saint Lucia, Digicel will be hosting a press conference and co-training with their influencers to celebrate the team and give the athletes one last hurrah before they depart. Customers can also support the team with Digicel's text to donate platform. All they have to do is text "BERLIN" to 5151, and XCD $1.00 will go towards Special Olympics Saint Lucia.
Nikima Royer Jno Baptiste, Chief Marketing Officer said, "Since 2004, Digicel Saint Lucia has offered support to special needs communities with the aim of creating a world where no one gets left behind. If we can embody half the resilience of our athletes, the world could be a better place. We especially look forward to supporting our local athletes as they prepare for the world games and can't wait to cheer them on as they represent our country."
The Special Olympics World Games will be held from June 17 – 25, 2023 and will see 7,000 Special Olympics athletes and Unified partners from approximately 170 countries competing in 24 sports.
Digicel Saint Lucia's support of Special Olympics over the years has seen how its financial contribution of over USD $50,000 has allowed athletes to be able to bring back to Saint Lucia over 100 medals.
Denis O'Brien, Founder and Chairman of Digicel Group, and Chairman of the Special Olympics Ireland's Council of Patrons said, "The Special Olympics provides an opportunity for people with disabilities to shine, and for people from different countries and cultures, to meet and overcome existing prejudices through the power of sport. Digicel and I will always support that. This year, we are supporting over 250 athletes from 11 Digicel countries at these games and I want to wish them all the best of luck as they compete and represent their home countries."
With 11 Digicel countries participating in and collectively sending 258 athletes to the world games, the Caribbean will have a strong representation at the event. In addition to Saint Lucia, athletes from Antigua, Aruba, Curacao, Dominica, Guyana, Haiti, Jamaica, St. Vincent and the Grenadines, Suriname, and Trinidad and Tobago will also be competing.
Since 1968, when the first Special Olympics International Games were held, the world has transcended the boundaries of geography, nationality, political philosophy, gender, age, culture, and religion to come together every two years for the Special Olympics World Games. The World Games has become the flagship event of the Special Olympics movement and has grown to be an international demonstration of inclusion, acceptance, and unity.
As a Digital Operator, Digicel is in the business of delivering powerful digital experiences 1440 minutes of each day to customers – that's every minute, all day, every day.
Through its world-class LTE and fibre networks, together with its suite of apps spanning sports, news, local radio and podcasts, TV streaming, enhanced messaging and marketplaces and self-care, Digicel is the only operator in its markets that can deliver that.
Serving consumer and business customers in 25 markets in the Caribbean and Central America, its investments of over US$5 billion and a commitment to its communities through its Digicel Foundations in Haiti, Jamaica and Trinidad & Tobago have contributed to positive outcomes for over 2 million people to date.
With its Better Together brand, Digicel is making a promise of simply more to customers and communities and its 5,000 employees worldwide work together to make that a powerful reality day in, day out.
Visit www.digicelgroup.com for more.