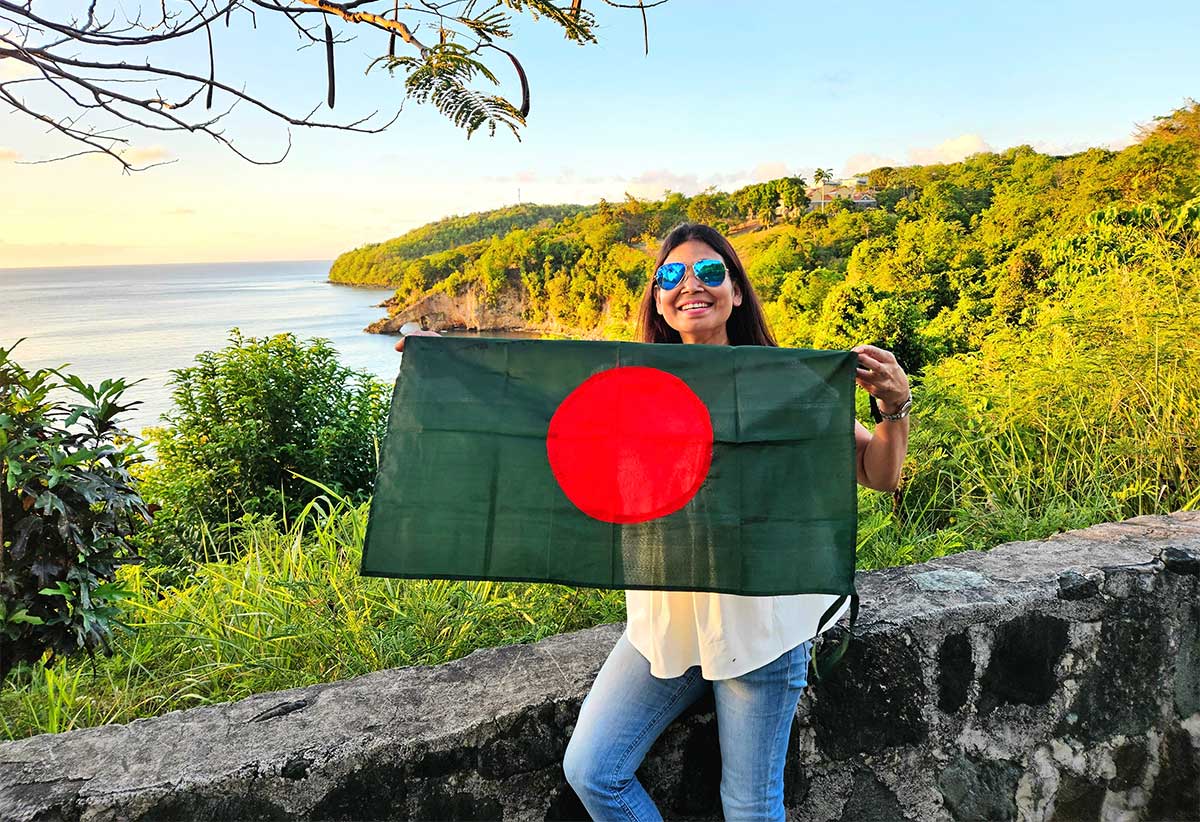 Some individuals have dreamt of travelling the world… unfortunately for most people that's not always possible. For Najmun Nahar, maybe there's a stroke of luck involved. This Bangladeshi woman has visited 166 countries, and after travelling to some of the most beautiful parts of the world, she decided to make Saint Lucia her 167th stop. 
After discovering Saint Lucia on Google, Nahar knew she had to visit.
"Saint Lucia is beautiful. The people are very nice and welcoming and the food is delicious. I love the fruits," she said, adding, though the other Caribbean islands are beautiful, there is something extra special about Saint Lucia.
"The people are precious… Saint Lucia and Bangladesh are connected through cricket. We love the West Indies players," she said with a grin.
At an early age, Nahar had her entire life mapped out. She wanted to travel the globe and discover some of the world's hidden gems as well as some of its most popular ones. And though her dream seemed larger than life itself, she knew it wasn't impossible.
"My grandfather was a traveller, and during 1926 to 1931 when there were no vehicles, he travelled by foot and by boat. He also used horses.  When I heard his story, I got this (wonderful) feeling inside. I also read a lot of books when I was younger and I played with maps.  I was born in Bangladesh but I wanted to see the world," she said.
"I wanted to see how other people were living and learn about their culture. I was so curious but (I wondered) how I would (discover) it. Living in Bangladesh we have a lot of struggles and there were times when women were not allowed to (venture) out. Nowadays that's changing," she added.
Nahar's dream finally came to fruition in 2000 when she left Bangladesh for the first time. According to her, that trip was quite memorable.
"I was an associate with the Bangladesh Girls Guide Association and we went to India. We slept in the jungle, we hiked and we cooked together. I learned so many things… but I didn't know how I would start my next journey," Nahar explained.
Later, she said, "I got a few opportunities from the same organization to travel to counties like Nepal and Singapore."
Nahar's dreams were coming true… slowly but surely. But in order to visit every single place she'd dreamt of, she had to come up with a plan.
"I got a scholarship to study in Sweden when I was studying at university. When I went to Sweden in 2006 I worked hard—sometimes 17, 16 or 14 hours. I had to make money to travel. I was wondering how I'd be able to do it… after I left Sweden I travelled to Finland, Denmark Norway… all those European countries. I tried to find the cheapest fights and sometimes I travelled by road," she said, adding "I use anything— train, bus, boat, (etc.)"
According to her, "I prefer travelling that way because I want to see more and eat (more). I spend little money on the way. I stay in yacht hostels, usually the ones (that cost) $10.00 or $20.00 … sometimes I couch surf or I use Airbnb which is a little cheaper. Otherwise it wouldn't be possible."
Nahar's life is like an open book and her stories are all enthralling.
"I have so many interesting stories from all over the world and I've learned a lot," she said.
And whilst she has lived a life some could only dream of, she has also had some near-death experiences.
"I was held up at (gunpoint) at one time by two guys who were trying to steal from me… there was a time I was stuck in a river in Costa Rica… I've ran out of food whilst travelling… I was in a jungle and I did not eat for two days," she explained, adding, "… but God helped me."
Apart from the aforementioned challenges, Nahar also has to deal with other issues when travelling.
"I have to struggle with the weather… some countries are cold but others are hot and I have to (adjust). It can be challenging," she said.
Even then, she wouldn't trade her life for a thing, Nahar told me. And according to her, she wants to carry the flag of Bangladesh wherever she goes. It fills her with a sense of pride, she said.
"I promote different messages when I travel like the importance of peace, saving the planet and stopping child marriages. I visit many school kids around the world; I am also a motivational speaker. I've spoken to thousands of children and I've also received various awards," she said.
Last year, Nahar received the coveted Peace Runner Award "for spreading the message of world peace," The Business Standard stated in an article on its website.
According to the website, "The globetrotter was given the award on November 27 at the 35th FOBANA Conference in Washington's Gaylord by the organization's President Inara Islam."
After visiting over 165 countries (she has visited a few more since leaving Saint Lucia), Nahar's journey is only just beginning.
One could say she has been around the world and back (quite literally too!) but she has no intentions of slowing down anytime soon.
But just in case you're wondering, she doesn't do this all year round—her life's not that glamorous!
"I travel (for a while) and then I go back to work. I work as a researcher in Sweden doing gender research, human rights research, etc.  It's very difficult to explain how I make a living but I make it happen because of my passion to see the world … the world is like an encyclopedia… I'm the first Muslim woman to visit 167 countries and the first Bangladeshi as well," she said.
"I want to visit all of the countries in the United Nations… I might (accomplish) that in the next two or three years; it's possible. Even during the pandemic, I did not stop travelling. I travelled to Africa… I took the Covid test in every country I went to… I was in South Sudan, North Sudan, Somalia, the Maldives, Taiwan, Japan… all those places during Covid I did it," she added.