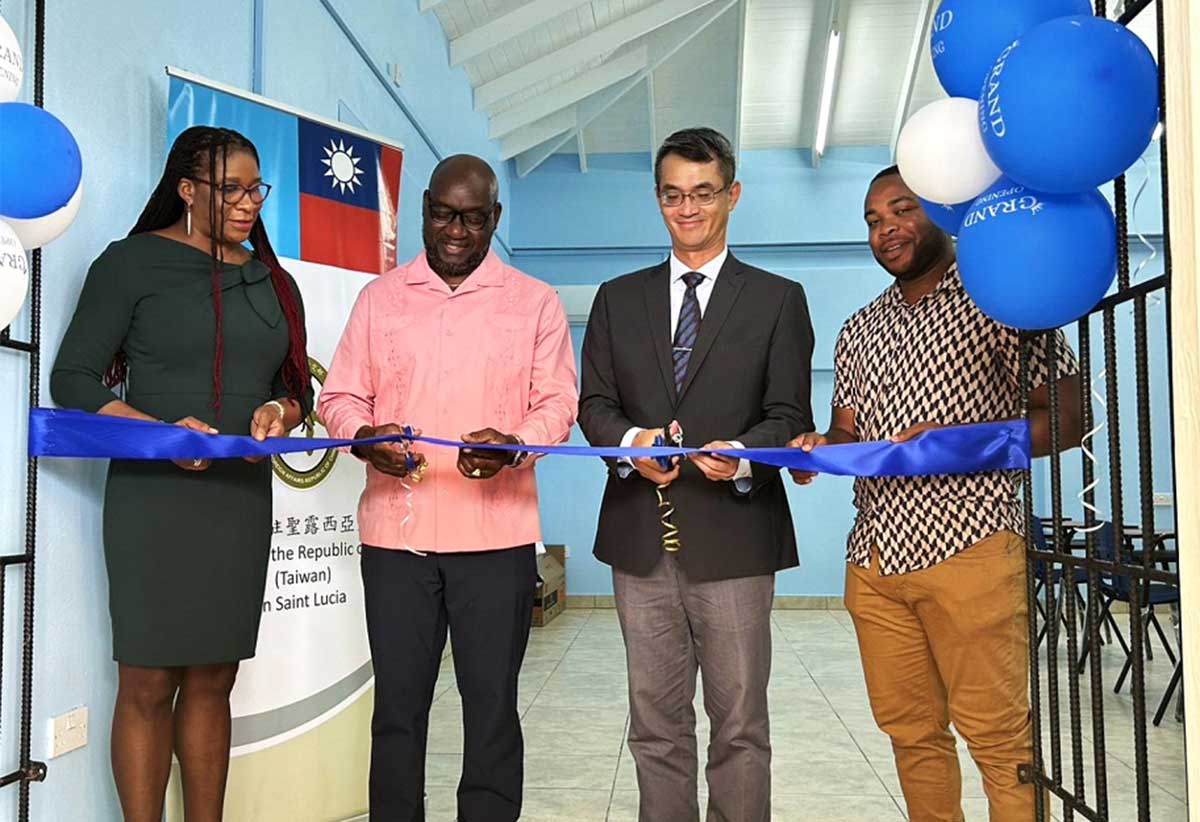 Residents of Vieux Fort North now have greater access toward bettering their socioeconomic potential, thanks to a SMART classroom that was recently introduced at the Belle Vue Human Resource Centre. 
On Wednesday, May 17, 2023, His Excellency Peter Chia-yen Chen, Taiwan's Ambassador to Saint Lucia, joined Hon. Moses Jn. Baptiste, Minister for Health, Wellness, and Elderly Affairs and Parliamentary Representative for Vieux Fort North; Dr. Cadelia Ambrose, Permanent Secretary in the Department of Housing and Local Government;  and Mr. Yondon James, Deputy Chairman of the Vieux Fort North Constituency Council, to cut the ribbon to officially open the new SMART classroom.
The official opening of the SMART classroom coincided with the first series of training workshops held at the Belle Vue Human Resource Centre which ended on Friday, May 19, 2023. That workshop, which was organized by Taiwanese and Saint Lucian stakeholders, provided training to people in the south in the following areas: Agro-processing, Basic Business Management, Marketing, and Craft Design.
Ambassador Chen said the SMART classroom was among matters discussed last year when Hon. Jn. Baptiste arranged an on-site visit in Vieux Fort North for Ambassador Chen and other Taiwanese Embassy officials.
"During the visit, Minister Jn. Baptiste shared and elaborated his vision and ideas on the development of his constituency," said Ambassador Chen. "Today, after several months of collaboration among different stakeholders, I am happy to see that we have put this vision into action."
Ambassador Chen commended Hon. Minister Moses Jn. Baptiste, Vieux Fort North Constituency Council Chairman Lincoln Francis and staff of the Constituency Council, and team members from the Taiwanese Embassy and Taiwan Technical Mission for their coordination and contribution that led to the project becoming a reality. He said Taiwan's role in Saint Lucia's national development includes building capacity in various areas.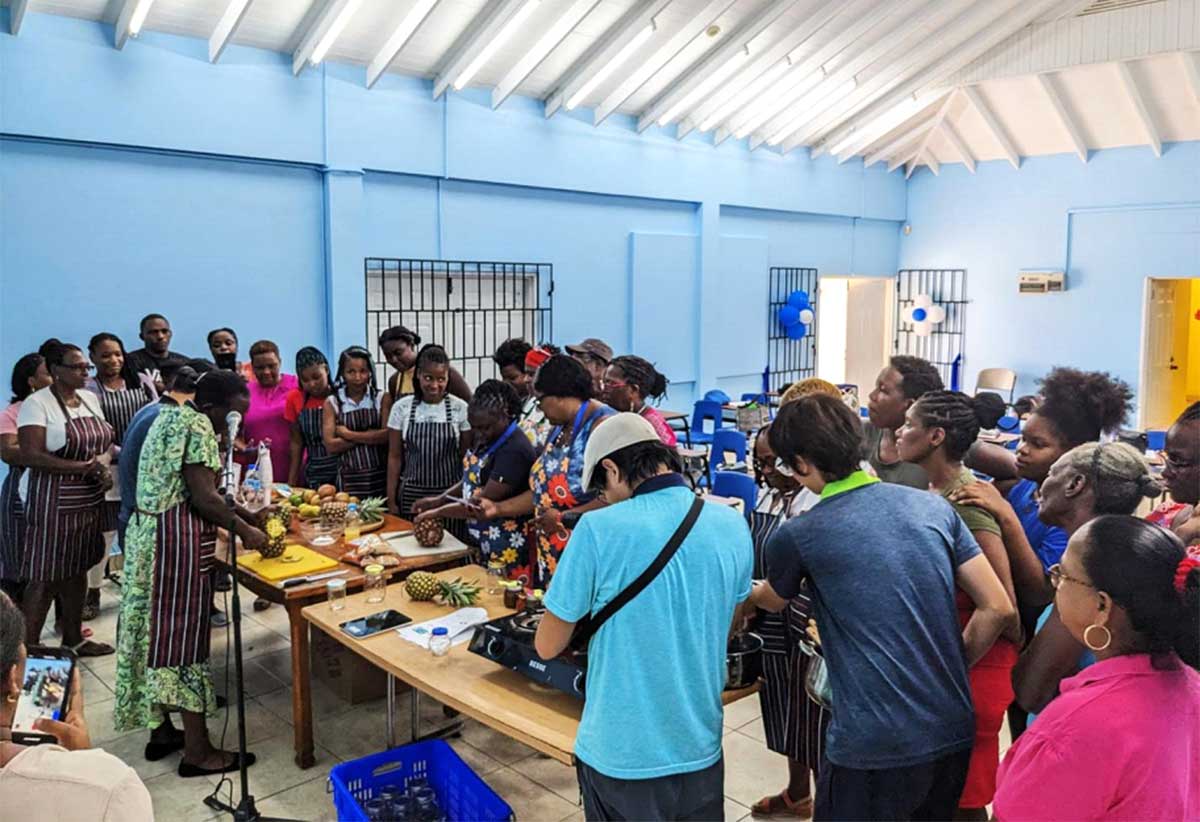 "Over the years, Taiwan and Saint Lucia have fostered a constructive relationship in various sectors, including agriculture, education, public health, ICT, and business start-up," Ambassador Chen stated. "Among this cooperation partnership is cultivating capacity building of individuals and social development of Saint Lucia. Today's workshop for Vieux Fort North is just another good example of the partnership between Taiwan and Saint Lucia."
Ambassador Chen added: "I am confident that, under the leadership and guidance of Hon. Minister Jn. Baptiste, as well as the community involvement, the people in Vieux Fort North could turn their potential into strength and shape a more resilient and prosperous community."
Hon. Moses Jn. Baptiste said negotiations to convert the human resource development centre's space for technical training into an ICT hub began with the Taiwanese Government during the SLP's 2011-2016 administration. The aim, he noted, was to increase Saint Lucians' knowledge of ICT, thereby increasing their access to more opportunities in the digital world. Upon returning to Government, Hon. Jn. Baptiste said negotiations recommenced.
"Since coming into politics, I've always said that the only way you can develop a community is if you help build leaders: if you help build leadership at the level of the communities, and at the level of community groups," Hon. Jn. Baptiste explained. "If the community groups — the sports groups, the cultural groups — if all of these groups have sound (and) dynamic leadership, and if they are well organized, they can now access resources from government programmes and outside of Saint Lucia."
Meanwhile, Dr. Cadelia Ambrose, Permanent Secretary in the Department of Housing and Local Government, said her Department was heartened by the Vieux Fort North Local Government Council's demonstration of its ability as a catalyst to facilitate improvement in the education of all its residents.
"Everyone within this constituency — and even beyond — stands to benefit from new learning opportunities, in particular alternative learning technologies, which can be dynamic and interactive through this SMART classroom," she said.
Dr. Ambrose thanked the Parliamentary Representative and the Council for re-fashioning the space to meet the modern needs of this community. She also thanked the Embassy of the Republic of China (Taiwan) for making what was once a dream a reality.
"At the Department of Housing and Local Government, we look towards empowering communities through the collaborative efforts between and among local government councils, the residents of the communities, and our stakeholders," Dr. Ambrose said. "This SMART classroom will provide beneficial services which will reach the young as well as the more matured persons in the community."