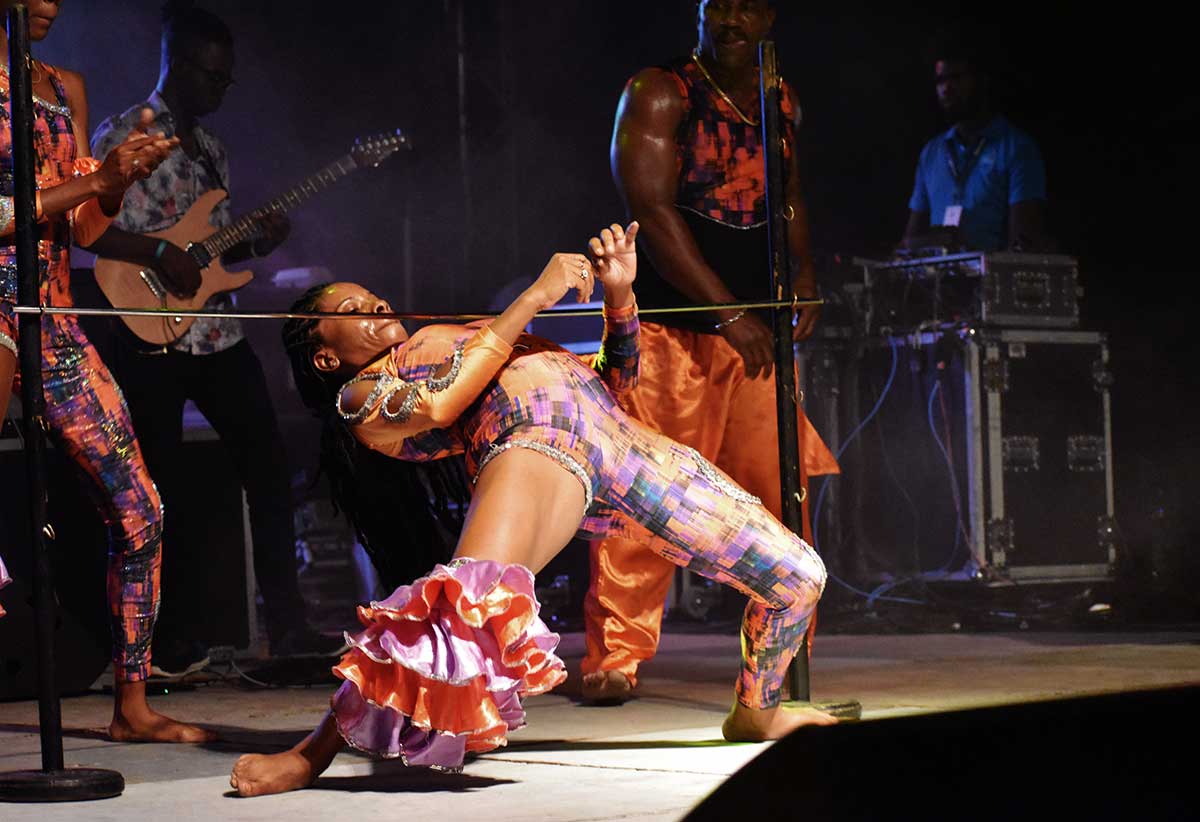 Undoubtedly, the 2023 Saint Lucia Jazz and Arts Festival was one of the greatest entertainment productions held on the island.
Yes, the destination's premiere event was back with a bang and featured top billed artists and a colourful display of arts and cultural presentations, put on in the city centre entitled – Arts and the City.
The organizers were thrilled with the outpouring of support from local patrons and visitors, as well as, persons in the diaspora and "captivating global audiences with an unforgettable experience".
The Saint Lucia Tourism Authority [SLTA] was a major organizer of the event and in collaboration with Events Company of Saint Lucia [ECSL], with assistance from other agencies and stakeholders, they kept the ball rolling all the way through.
"Set against a picturesque backdrop, the festival showcased a diverse programme featuring world-renowned musicians, artists, and performers. From Grammy winners to rising stars, the stage came alive with an eclectic mix of genres, leaving the crowd spellbound and craving more," declared SLTA's Public Relations Manager Geraine Georges.
The focus is already on how to make the Festival bigger and better next year as an autopsy is already underway.
The Festival had many outstanding moments, one being Buju Banton Friday night, who interspersed his deliveries with social commentary and words of motivation. He reached out especially to the youth urging them to try to break out from the trappings of gun violence and the social ills permeating throughout the system and society, generally. He conveyed some soul-searching inspiration as he evoked a 'Jamaica- St Lucia connection', spreading to other parts of the region.
"We de Caribbean …Caribbean people" says Buju, as he delivered more Protest Songs, such as 'I'm a Living'; and then into dancing mode with tunes like, 'I Never Want to see you Crying over me'.
At a post-show interview, Buju admitted that music continues to play a relevant role in arousing the consciousness of people from the region.
"We may have got lost on the way, but nonetheless we have to remember where we're coming from …music continues with us and the impact it has on us and our parents growing up," he said.
In an impassionate plea, Buju reached out to Caribbean youth calling on them to put aside the gun violence and other social upheavals. Noting that he, too has overcome many struggles in life.
He added, "My message is in my music …and there are more messages to be imparted and more messages still from my new album that's coming your way in July, because we speak through the music."
For last Saturday's World Beat segment, local talent was on point; with dazzling performances from the likes of Invasion Band, Kayo, Michael Robinson and others.
Though there were a few glitches with some of the Afro Beat artists, which the SLTA has promised to rectify, the act went down well with the other performers.
Ayra Starr entertained with her popular Rush hit tune; and the headline act featuring Kassav with its favoured Zouk selections and well-orchestrated choreography continues to impress the fans as the band paid tribute to their fallen leader Jacob Desvarieux. Songstress Jocelyne Béroard fronted for the band alongside keyboard player Jean-Claude Naimro and they delivered a set of popular selections.
On Sunday, the Ultimate Celebration featured the annual Mother's Day tributes and highlights.
A Taiwanese string band opened the set with a guest performance.
And the local acts followed with Irvin "Ace" Loctar delivering his smooth R&B and reggae grooves; while the Teddyson John Project with "TJ" stirred up patrons with a 'Carnival Style' slow jam selections.
Barbara Cadet was back on stage with a bang. Her selections featuring horns, Congo drums and percussions went down well to electrify the crowd and people found it impossible to not get on their feet and swing and sway to the sounds.
The ever-green Ronald "Boo" Hinkson has created an imprint on the jazz festival, doing it his way, as he brought on some top local artists to accompany his jazzy blues and rhythmic glitzy guitar notes renditions.
And then the ultimate headline act featuring Sting & Shaggy, literally 'took one's breath away'; as the artistes took the crowd on a joyful ride down memory lane to rock and groove into the evening skies. To end it all, Shaggy joined Sting – and the two Grammy-Award winning artists delivered a truly popular and amazing number – Every Breath You Take.
Back stage, Cadet told reporters, her act was part of a tribute to mothers generally, and also the many 'sisters' out there.
Said Barbara: "Personally …it speaks to women and the challenges that we have and it's saying to them: Hey, remember you're going through stuff but it's just not you. And not only that, you could be my sister, I could be your sister and we've got to come together and be together."
An SLTA official stated that more than 30 Saint Lucian artists performed throughout the festival and "were given the opportunity to showcase their exceptional talents within the organic Dennery Segment, Soca, Calypso, Groovy, and Reggae genres for which the island is renowned.
"This showcase of local talent further solidified the festival's commitment to nurturing and promoting the rich artistic heritage of Saint Lucia".
Summing up the experience, Chairman of the Saint Lucia Jazz & Arts Festival (SLJAF) Thaddeus M. Antoine provided a vivid description , stating : "This year's edition surpassed all expectations, showcasing the pinnacle of music, art, and culture throughout the entire island. From pulsating jazz rhythms to awe-inspiring visual spectacles, the festival crafted an immersive journey that brought joy to thousands of residents and over eight thousand visitors, transcending age and background."