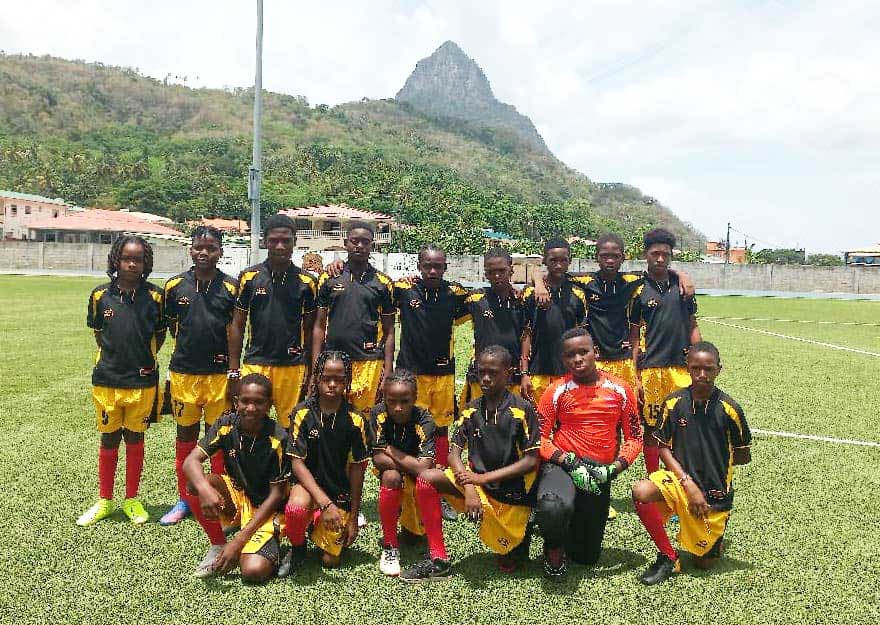 Exciting results emerged from the qualifying rounds of the Ministry of Education / Saint Lucia Football Association (SLFA) Inc.'s Round of 16 Primary Schools Football competition Thursday.
After some challenging play, the qualifying quarter finalists are Soufriere, Canaries, Anse La Raye and Roseau Combined.  
At the SAB Playing Field, Soufriere Primary defeated Dame Pearlette Louisy 2 – 0 with goals from Desley Edward and Lyon Griffith.
At the same venue, Canaries Primary advanced after getting past Methodist Memorial 8 – 7 via the dreaded penalty tussle after the scores were locked 1 – 1 at the final whistle.
Mikel Florent scored for Methodist while Braeden Tisson scored for Canaries.
Anse La Raye Primary upstaged Desruisseaux Combined 5 – 1. Anse La Raye goal scorers were Kervin Biscette, Verkim Desir, Shawnil Deterville, Louis Arthur and Pedro Danzie; while Daijhan Charles scored for Desruisseaux Combined.
Meanwhile, Roseau Combined defeated RC Boys Primary 5 – 3 to clinch the last quarter final spot. 
Scoring for Roseau were Emmanuel Saitoute with a hat trick and Delaney Lansiquot and Merlik Alphonse one each.
Javan Charlery with a brace and Neihym George scored for RC Boys Primary
Roseau is set to play Richfond on Tuesday, May 30. 
Results from the Round of 16 matches played, were as follows:
At
the SAB Playing Field
Dame Pearlette Louisy Primary vs.  Camille Henry Memorial 11 – 3,  Gordon /Walcott Methodist  Memorial vs. Gros Islet 4 – 0, Soufriere Primary vs. Dennery Primary 3 – 0, 
Roseau Primary vs. River Doree Combined 12 – 5,
Richfond Primary vs. Anse La Raye Primary 6 – 1, 
Desruisseaux Combined got the better of RC Boys 3 – 2,  
Canaries vs. Laborie Boys 0-0.
Meanwhile, FIFA will stage a Two-Day Workshop in Jamaica from May 29 to 31, entitled Football for Schools in the Caribbean.
The focus of the workshop is to examine the status and structure of football in schools in the Caribbean and in addition the structure of Grassroots Programmes within Concacaf.
Some of the agenda items include – How to embed life skills into football; Experience Sharing Presentation; and Presentation on Grassroots Football Structure (Member Countries). 
The Workshop is set to take the format of an interactive discourse, which will consist of both theoretical and practical sessions.
Some of the Workshop Presenters include Joseph Cox – Caricom Deputy General Secretary, Andre Waugh – CONCACAF Development Senior Manager, Jair Bertoni – FIFA Regional Director Americas, and Wayne Ford – President Guyana Football President
One of the key components of the Workshop is a five minutes presentation by countries on the structure of their Grass Roots Programme. The SLFA Inc. Programme Officer John Sealy will present on behalf of Saint Lucia.
Other Saint Lucian representatives at the workshop will include Evastus Augustin, Dave Albert – Curriculum Officer for Physical Education at the Ministry of Education and Isabel Alexander Marquis – School Sports Coordinator at the Ministry of Youth Development and Sports.
The delegation is due to leave the island on Sunday, May 28 to return on June, 1. 
In other updates; the Roseau Football League elected a new executive to run its affairs for a two-year term. 
There were five clubs in attendance, namely, CT Foundation, Roseau Valley Juniors, T Valley FC, and Sarrot Youth Sports Club. Following the casting of ballots, the incumbent President, Marcus Harrow narrowly defeated the challenger Bobby Hippolyte 3 – 2.
The other executive members are as follows; 
First Vice President – Edd Fred
Secretary – Ketra Joseph
Asst. Secretary – Gemma Lionel
Treasurer – George Clarke
Public Relations Officer (PRO) – Ruben Sandiford.