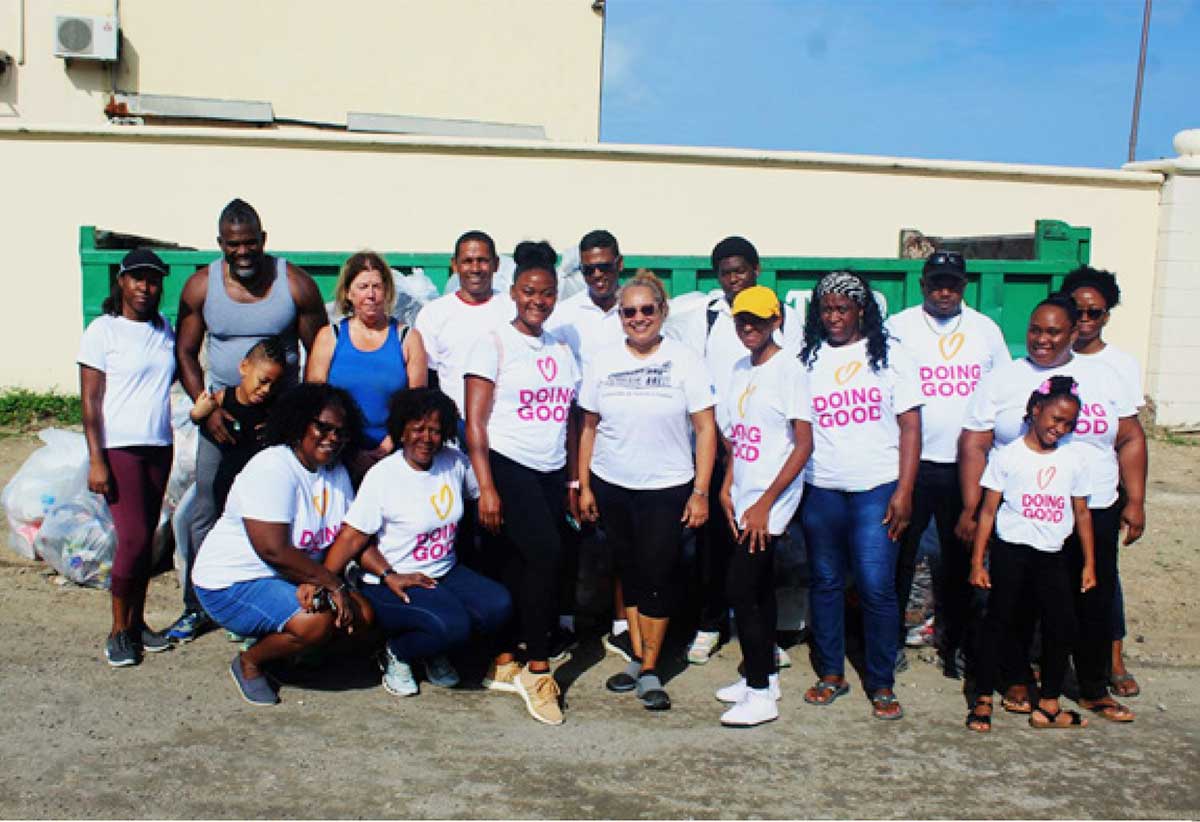 True to their commitment to maintaining a clean environment, The Landings Resort & Spa organized another successful clean-up exercise in observance of Earth Day.
The exercise was conducted on Saturday morning (April 22), the date Earth Day is observed globally, and included staff members from the luxury resort and volunteers from Do-Nation Foundation, a local non-profit organization, collaborating for the good of the environment.
The clean-up crew spent nearly three hours gathering garbage that was strewn indiscriminately along the roadside and in the nearby bushes that stretched from the Cap Estate/Pigeon Island intersection right up to Pigeon Island.
Items collected during the clean-up exercise included glass and plastic bottles, plastic bags, metal cans, pieces of wood, bamboo and cloth, computers, food containers, and cardboard boxes.
Staffers from The Landings who participated in the exercise included Sannicia Sammy, Assistant General Manager; Natasha Jouavel, Human Resource Manager; Kamille Huggins, Residences Manager; and Tim Mangal, Security Manager and Chairperson of the Environmental Committee.
Mangal said 66 large bags of garbage were collected, eclipsing the 42 bags collected at a similar Earth Day clean-up last year. He appealed to the general public to be more conscientious when it comes to garbage disposal.
"Put your garbage in a bag and throw it in the garbage bin," Mangal said following the clean-up exercise. "Today we saw garbage that was bagged at home and dumped alongside the road. This is not nice. We are a tourism-dependent country and the environment is one of the things that people come to enjoy. We need to ensure that we sensitize everyone that the environment is very key to our sustainability."
Diane Felicien, CEO of Do-Nation Foundation and Lead for Good Deeds Day Saint Lucia, said collaborating with The Landings for the special exercise formed part of activities marking Goods Deeds Day, which was observed on April 16.
"Coming on board with The Landings for this exercise was a great experience," she stated. "We would have seen the importance and continued engagement that we need to have with our people in terms of keeping the environment clean."
Felicien said people need to be more respectful to the environment: "Most times, you'll find people dumping their stuff, including things left over from construction works. We continue to encourage people to take care of the environment and their surroundings."
Meanwhile, Janet Royce, a visitor from the United Kingdom, who says she has been visiting Saint Lucia for more than a decade, was also part of the clean-up exercise. Royce, who says she enjoys running and picking up garbage that's been dumped indiscriminately, was on her morning walk and decided to join in.
"I come here on holidays, and it's so lovely," she said. "It's nice to give back to the island. I believe in the environment as well. I'm really proud to have assisted the volunteers and they were very friendly. I also got a nice breakfast afterwards."
Mangal thanked The Landings staff, volunteers from Do-Nation Foundation, and Royce, a guest from Body Holiday, for their contribution. He noted that Royce's willingness to participate in the exercise says wonders for visitors to Saint Lucia.